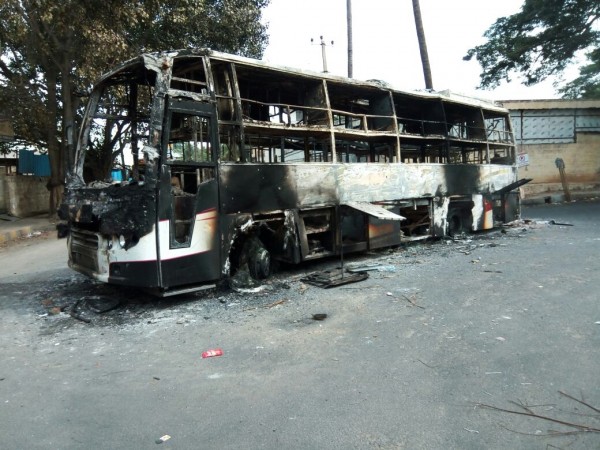 The Bengaluru City police lifted the curfew from all the 16 police station limits across the city at 9 a.m. on Wednesday.
The curfew had been imposed in 16 police station limits on Monday evening following violent protests against the Supreme Court's verdict on the Cauvery water dispute. The apex court modified its Sept. 5 order after the Karnataka government submitted a plea requesting the court to reduce the amount of water to be released to Tamil Nadu.
The SC ruled that the government would now have to release 12,000 cusecs of water instead of the earlier 15,000 cusecs of water to Tamil Nadu every day.
"Bengaluru has come back to normalcy, people are doing their routine work," Karnataka Home Minister G. Parameshwara told reporters.
Following the verdict, violent protests took place across the city and state. There were protests in Tamil Nadu as well with attackers hurling six petrol bombs at a Karnataka-based restaurant New Woodlands Hotel in Chennai. Four attackers were detained by the police in the matter.
A Kannadiga driver was thrashed for ferrying Kannadigas in Rameswaram, while vehicles were vandalised in Ramanathapuram.
Two people have died, while one remains critically injured after police fired at an angry mob for torching a police patrol jeep in Hegganahalli near Rajagopalnagar. Thirty people were arrested by the police following the clashes. The state government announced a compensation of Rs. 10 lakh to the kin of the deceased youths.
Over 50 buses belonging to KPN Travels in Coimbatore were set on fire by protesters in Mysuru Road, while other vehicles bearing Tamil Nadu number plates were also vandalised and torched.
All metro and bus services were suspended, while schools were asked to shut down. Private vehicles and cabs had also stopped operating. Bus services to and from the airport were also affected.
Over 300 people were arrested even as the city remained tense but calm on Tuesday. Around 15,000 police personnel along with CRPF, RAF teams were deployed across the city to maintain law and order situation.
Karnataka Chief Minister Siddaramaiah appealed to citizens to maintain peace. He also wrote to Tamil Nadu Chief Minister Jayalalithaa, asking her to ensure the safety of Kannadigas in the state and take strict action against those indulging in violence. He also wrote to Prime Minister Narendra Modi seeking an appointment.