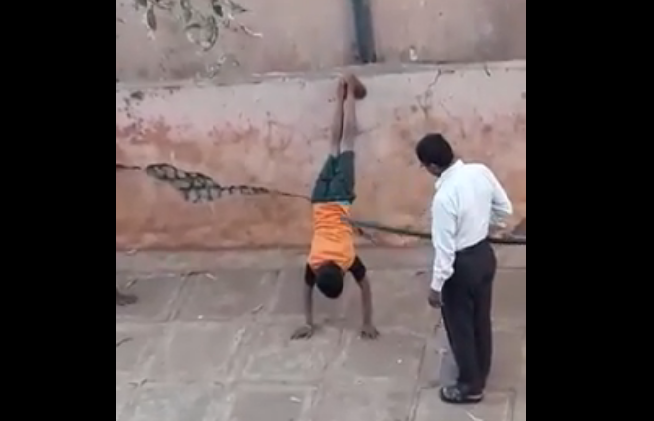 A shocking video has emerged on Monday where the warden of a government-run hostel was caught trashing two minor students with a long pipe in Zaheerabad, a town in Sangareddy district of Telangana. He also made them stand upside down.
According to reports, the incident came to light when an eyewitness caught the brutality on camera and circulated it across social media platforms. The video has enraged several child rights activists who demanded strict action against the warden.
The warden of the hostel, identified as Yadaiah, was allegedly beating the two children for not attending classes regularly, as per reports.
The angry warden asked the students to stand upside down as he thrashed them with a long pipe.
Child rights organizations have approached the State Human Rights Commission demanding a probe into this incident and stern action against the warden.
The video has also infuriated several parents and guardians. They have also come up demanding that the warden be booked for the corporal punishment given to the minor boys.
Despite the government's order to not physically punish students, several cases have emerged in the recent past where students have been beaten up in schools and colleges.
In a brutal case of punishment reported from Karnataka recently, a hostel warden allegedly thrashed a teenage girl over rumours that she was a lesbian. Besides that, the girl was asked to eat chilli powder and was denied drinking water after that. The shocking incident came to light when the victim's friends informed the Child Welfare Committee on December 29.