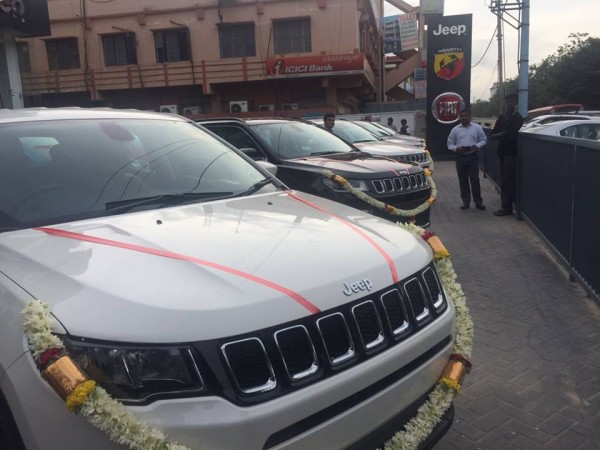 Getting into a brawl with a customer is not even the last thing that Fiat Chrysler Automobiles (FCA) would like to hear from its dealerships that are selling its iconic Jeep brand in India.
Unfortunately, the brand joins a growing list of cars whose dealerships have been in the news for all the wrong reasons. Now, a video has gone viral on the Internet that shows staff at Landmark, a dealership of the company in Delhi, beating up a customer. Yes, you heard it right.
While both the sides involved in the scuffle have presented their own versions of what unfolded, the netizens seem to have a different take and many wondered if it is justifiable to beat up your own customer. In the short clip, the employees of the Jeep Landmark showroom can be seen ganging up and beating a customer.
According to the reports online, an aggrieved customer had gone to the showroom to check the service status of Jeep Compass SUV that he purchased recently. The new vehicle reportedly had manufacturing defects and was sent back to Gurgaon for repairs.
Also read: Bengaluru man gets Skoda Regular Rapid disguised as Black Edition, takes dealer to court
Apparently, the Compass SUV was sent back to the dealership without the issue being rectified and it was left unattended. This is said to have angered the owner of the vehicle and led to an altercation with the staff at the showroom. What we see in the video is the aftermath of the confrontation as employees of Landmark dealerships gang up and beat the customer.
Landmark dealership, which issued a statement on November 30 after the video went viral, however has a different story altogether.
The statement reads: "The video neither portrays nor provides the complete picture of the happenings. The incident had resulted as a consequence of unacceptable behaviour of the customer with some of the female staff in our organisation. This incident took place two months back i.e. on September 29, 2017 where the customer, during his discussion with our officials at Landmark showroom in Delhi, used extremely abusive language and also threatened the staff including the female front desk manager."
Also read: Caught on cam! Maruti Suzuki Baleno RS owner sends car for servicing, gets it back after just a wash
While both the sides may have their own version of the story, the incident has for certain left a dent on the brand's image. The question that begs an answer is: Do they have the right to take the law into their own hands?