All hail Cardi B! The female rapper, who is giving a tough competition to Nicki Minaj, won the Best New Artist at the 2018 iHeartRadio Music Awards on March 11. And she absolutely deserved it.
Topping the charts with hit numbers like Bodak Yellow and Bartier Cardi, the Love & Hip Hop New York alumna took the iHeartRadio stage to announce her new album's release date.
In her acceptance speech, the singer revealed that new songs drop this April, which means we are cool for the summer! "My album will be coming in April. Okay? Yes, sir. April. Stay tuned mother f--kers owwww," she said in her acceptance speech. Her new songs release just in time for Coachella 2018.
The 25-year-old had previously revealed that her new songs were slated to release in January. But it looks like the diva wasn't satisfied with her work and wanted to make it perfect.
Back in November, Cardi took to Twitter to share that she was under a lot of pressure and she felt it her songs needed more work.
"I have a lot of pressure on me," Cardi tweeted back in November. "I have songs stashed up. I just don't think they qualified for my album. Sometimes I think is ready sometimes I think it's not so I'm going to take my time till it's right," she tweeted.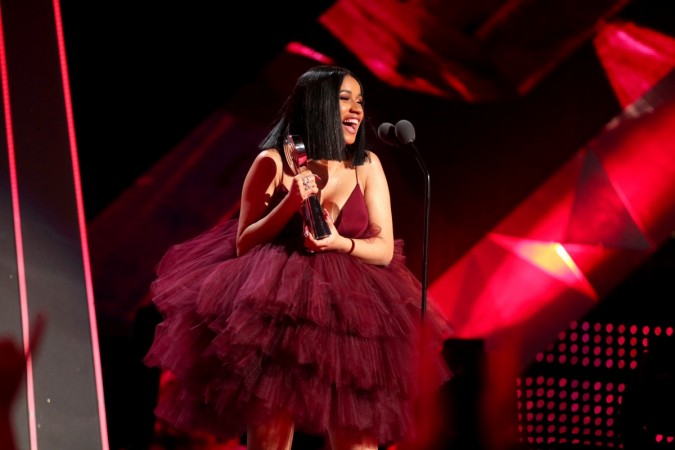 Well, it sure looks like she is prepared to rock the Billboard. Apart from announcing her album, Cardi also took the opportunity to thank her "man" aka Offset, fans and of course haters.
In complete Cardi style, she said, "Oh my God! I am going to thank a lot of people because a lot of people helped me with my success so here it goes. I want to thank my publicist, my team, I want to thank Atlantic, my family. Who else? I want to thank my man."iHeartRadio Music Awards
She added, "I want to thank my fans because even when I'm wrong they be like she's still right," before she called out to her haters. "And I want to thank my haters too. Because, ha-ha-ha, because, they be downloading my stuff so they can hear it and talk crap about it. But it benefits me. Ha-ha-ha," she shared.
Watch the speech here: