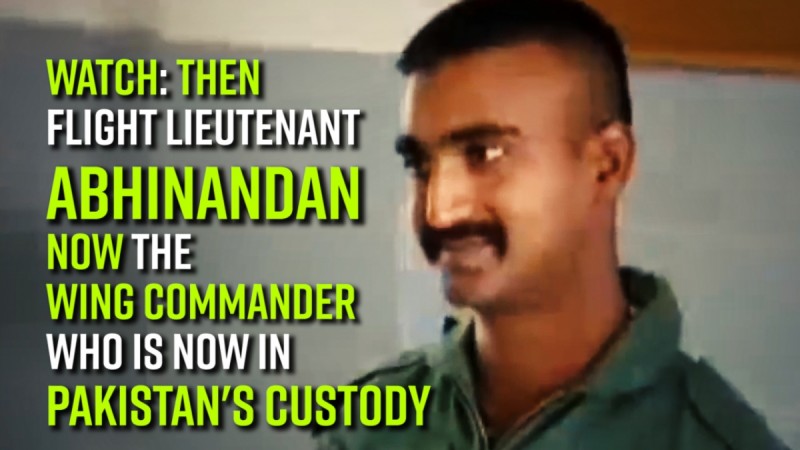 India has demanded safe return of the Air Force pilot in Pakistan's custody. The Indian demand came after a new video IAF Wing Commander Abhinandan Varthaman surfaced online, wherein he is heard saying he is safe. There were also reports that the missing pilot was ill-treated by Pakistani mob.
Following this, India summoned the acting high commissioner of Pakistan, demanding safe return of Abhinandan Varthaman, Livemint reported. The new video was shared by Pakistani journalist Azhar Abbas of Geo News. Wing Commander Abhinandan is seen in the video responding to the question of how he was treated in Pakistan after the capture. "The officers of the Pakistan army has looked after me very well," he is heard saying.
Abhinandan's MiG-21 fighter jet was shot down by Pakistan on Wednesday, but the IAF pilot did not sustain serious injuries from the crash. At a media briefing in New Delhi on Wednesday, Ministry of External Affairs spokesperson Raveesh Kumar confirmed that Indian Air Force MiG-21 Bison was "lost" and the pilot of the MiG-21 is "missing in action."
Earlier, the Pakistan government had shared a short video clip of the captured pilot on Twitter. The Pakistan media has also shared several images, which show the captured IAF pilot along with documents such as survival checklist note, map, survival on the land handbook and a gun.
A spokesperson for Pakistan military, Major General Asif Gafoor had said earlier that the Pak fighter jets carried out strikes in J&K and took down two IAF fighters. Both pilots were said to be in custody of Pak army, but the video released by Pak govt. and media only show Abhinandan in custody.