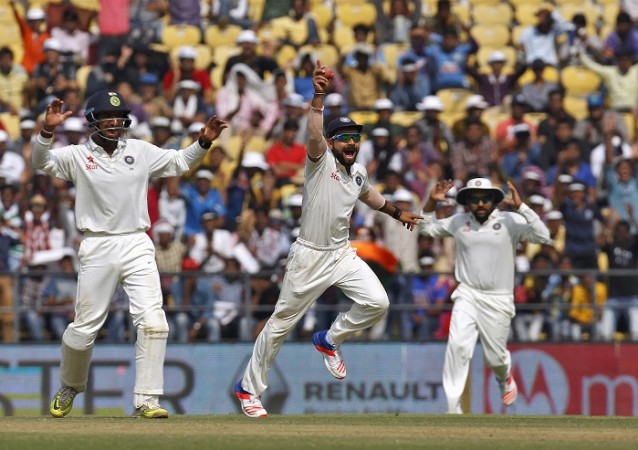 MS Dhoni and Sourav Ganguly have been the two most successful captains for India in the recent past, and Virat Kohli, in his short career as Test skipper, has showed that he belongs to the same league as well. The Prince of Calcutta has sung praises of the Delhi batsman, who he believes will take India to greater heights with his intensity and strong desire to win each and every match.
Kohli became the captain of the Test side after MS Dhoni's surprising decision to quit Test cricket in Dec. 2014 during the tour of Australia. The right-hander took the new role as duck to water and has helped India win a number of series, including a historic triumph against Sri Lanka in the island nation after 22 years.
Besides that incredible victory, Kohli led his team wonderfully against South Africa at home in 2015, and dominated the Test series against West Indies, which concluded last month. Kohli has led from the front brilliantly, and his positive attitude has rubbed off on other players as well.
Kohli, when he enters the field to bat or lead his team, has that focused look, which Ganguly refers to as his desire to perform at the highest level.
"Virat is one of my favourite captains at the present moment. He is a terrific player. In his short career so far he has done wonders for the country. Someone who when I look at him on the field is going to raise the value of the Indian cricket with his intensity, fighting spirit and hunger to win," Ganguly was quoted by IANS as saying. "You could see it on his face when he walks out to bat, or captain India he wants to be the best. The country needs him at the moment and I think he is great addition to Indian cricket."
Kohli has done a wonderful job as India captain, and he will be keen to continue in the impressive role as his team prepares for a long season at home where they are set to face top teams like New Zealand, England and Australia.
As of now, the captain will just have to keep his focus on the Black Caps, who are presently playing a practice match against Mumbai in Delhi. The three-match Test series will start on Sept. 22 at Green Park in Kanpur, and India, who are masters at home, are considered favourites, but they cannot afford to take New Zealand lightly.
"New Zealand are probably the second best team after England at the moment. India are almost unbeatable at home. Everyone knows that, even New Zealand," Ganguly said.