Xiaomi, which recently surpassed Samsung to become India's largest smartphone seller, has announced a new service that will surely cheer up people who are planning to buy their new smartphones. The company has commenced a new 'Express Delivery' service for orders placed on its online channels, Mi.com and Mi Store app.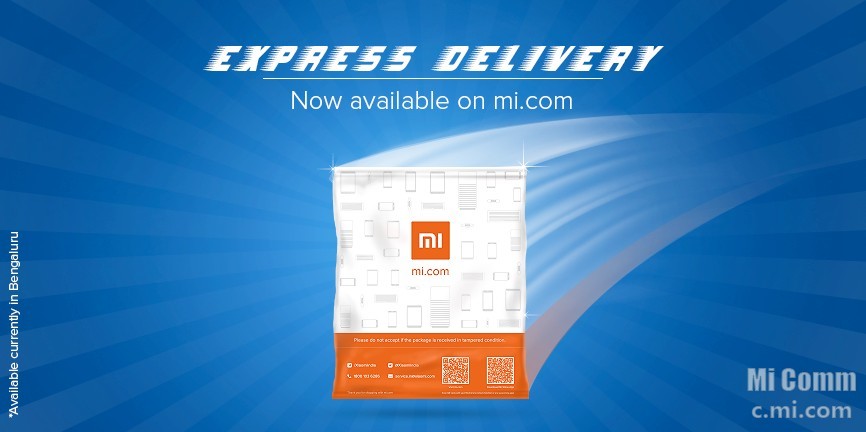 Xiaomi's Express Delivery service guarantees 'one-day delivery' without levying any additional delivery charges. The service is currently available exclusively for customers in Bengaluru. However, it is limited to select pin codes in the city and can be availed only on an order consisting of a single eligible product.
Also read: Xiaomi asked to pay Rs 10,999 to customer who was charged for mobile repair under warranty period
How to opt for Express Delivery service?
If you are excited about Xiaomi's new service and are planning to buy a new Xiaomi smartphone, you can opt for the Express Delivery service by selecting the 'Express Delivery' option on the 'Order Information' page on Mi.com. But if you are placing an order via Mi Store mobile app, then you need to tap the 'Delivery Service' option after proceeding to checkout and select the 'Express Delivery Service' option if your order is eligible. Once done, hit the 'Confirm' button and you're done. The order will be delivered to you within a single working day.
*Conditions apply
Meanwhile, there are certain conditions to avail the Express Delivery service. First and foremost, your order needs to be placed between 9am and 4:30pm to be eligible for one-day delivery. Likewise, you cannot choose the Cash on Delivery (COD) option if you're selecting the Express Delivery option, meaning the payment needs to be pre-paid via other payment options like debit/credit card or net banking.
Also, the service is only available currently for an order consisting of a single eligible product and it is not available on Sundays.
The products currently eligible for Xiaomi Express delivery service include the Xiaomi Redmi Note 4, Redmi 4, Redmi Y1, Redmi 5A, Mi Max 2 and Mi A1(REVIEW).
With the Express Delivery service, Xiaomi is aiming to improve its proprietary online stores, Mi.com and the Mi Store app, considering that leading e-commerce platforms, Amazon India and Flipkart also offer one-day delivery options.
Meanwhile, Xiaomi recently announced its WhatsApp-based Xiaomi Mi Bunny subscription service. The Mi Bunny service offers instant updates and latest news on new Xiaomi products, product deals, sale reminders, update notifications, and reminders about Mi Fan meet-ups via the popular messaging app. Apart from that, the service can be used by customers to raise support requests.
To activate the Mi bunny service on WhatsApp, you will need to send 'Xiaomi' followed by your name and city to +91 7760944500 from WhatsApp. You will receive a welcome message from Xiaomi and the service will be activated.