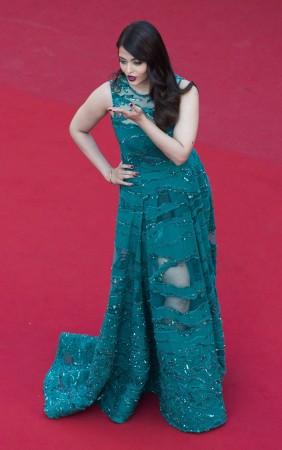 Aishwarya Rai Bachchan might be a Bollywood star and an international celebrity, but she is also a doting mother to daughter Aaradhya.
Before walking on the red carpet at the Cannes Film Festival 2015, Aishwarya Rai spent some time with Aaradhya and played with her. L'Oreal Paris India tweeted the photo of their spokesperson Aishwarya with her daughter Beti B.
"A sneak peek you all have been waiting for! The glorious Aishwarya Rai Bachchan plays with Aaradhya minutes before she leaves for the red carpet. Dressed in @ElieSaabWorld," the tweet read.
In the photo, Aaradhya is seen admiring her mother, who is dressed in an Elie Saab gown. But it's Aishwarya Rai's smile that makes the photo even cuter.
Aishwarya Rai made her Cannes Film Festival 2015 red carpet debut on 17 May in a stunning teal beaded gown with a semi-sheer skirt. The Bollywood diva attended the screening of Cate Blanchett's film "Carol". Check out her red carpet look here.