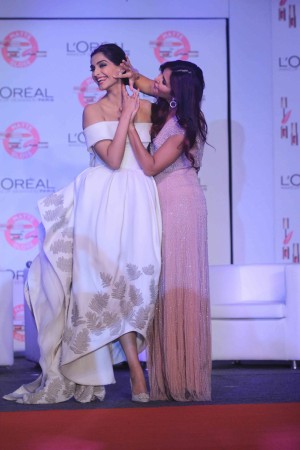 Bollywood isn't a breeding ground for long-lasting friendships, especially among leading ladies. But lately, things seem to have changed quite a bit, as actresses are getting along with each other more than ever.
At a recently concluded event, Katrina Kaif and Sonam Kapoor indulged in some adorable PDA and defended one another when probed about person lives.
The two faces will be representing a popular cosmetic brand at the prestigious Cannes Film Festival 2015. While Sonam is a regular and often dubbed as a fashionista, Katrina likes to play it safe.
"I have not decided the look yet. We would be working with the team at Cannes, which consists of some amazing hair and beauty technicians. We haven't thought whether it would be Indian or western look. We haven't made any plans but we will zero in on it soon," she told IANS quickly adding that if she doesn't find anything appropriate she'll borrow a dress from the "Dolly ki Doli" star.
So, does this mean there's a slim chance of Sonam doling out some styling tips to Katrina? Only time will tell.
The "Bang Bang" actress further elaborated that she wasn't looking at setting any new trends adding that she was hired by the brand because of her ability to 'be me'.
"I will find something that I'm comfortable in and will not get carried away to make a statement. I think one should be true to one's own self and enjoy the festival and the platform which celebrates cinema, fashion and beauty trends as well," she added.
Meanwhile, the two are now following one another on Twitter and have also engaged in a cute conversation online. While Katrina posted, "Such a fun day with the gorgeous @sonamakapoor at the @LOrealParisIn press conference! #CantWaitForCannes," Sonam welcomed her on Twitter.