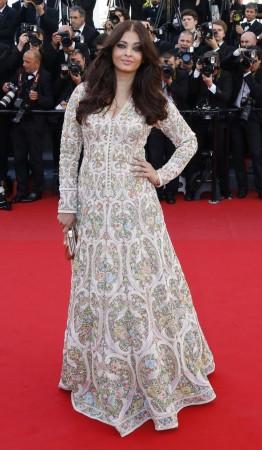 After Katrina Kaif, beauty queen Aishwarya Rai Bachchan will treat her fans by making a Twitter debut. The "Jazbaa" actress will take over cosmetic group L'Oréal Paris India's Twitter handle for a day on 20 May to share her Cannes Film Festival 2015 journey.
Last year, the brand ambassador of the cosmetic group shared her first selfie on Twitter and this year she will tweet and share her experience for a day.
While, hubby Abhishek Bachchan and father-in-law Amitabh Bachchan are regulars on social media, Aishwarya Rai is not a part of any social media platforms.
To make it a memorable day for fans, Aishwarya has planned several things to interact with them. For the first time ever, while at Cannes, she will participate in a Twitter chat wherein she will share her experiences and answer questions, said a statement.
Aishwarya Rai will also share a video, which will feature her journey at the prestigious film festival starting from Mumbai. On Friday, Sonam Kapoor shared a video of her journey at Cannes.
Apart from that, Aishwarya will also give some makeup tips and share a few secrets, the statement said.
Earlier, Katrina made her Twitter debut to promote the cosmetic group at Cannes Film Festival. Katrina, who debuted on the red carpet this year, shared several photos on Twitter from the first and second day at Cannes.
Aishwarya Rai, who has been attending the film festival for the past 14 years, will walk on the red carpet from 16 to 21 May. The actress will also release the first look of her comeback film "Jazbaa" at the 68th Cannes Film Festival.