South African supermodel Candice Swanepoel has hit back at haters criticising her post-pregnancy body. The Victoria's Secret Angel welcomed her second child with fiance Hermann Nicoli on June 19.
The 29-year-old beauty hit the beach in Vitoria, Brazil, just 12 days later, and internet trolls criticised her bikini body. Swanepoel took to Instagram and responded to body-shaming messages.
The mother-of-two wrote: "This is me 12 days after having my son. If you have something bad to say about it...check yourself. Society can be so cruel to one another. Beauty standards are sometimes impossible for women these days. I'm not ashamed to show my post partum tummy. I am proud actually...I carried my son for 9 months in there. I think I've earned the right to have a little tummy."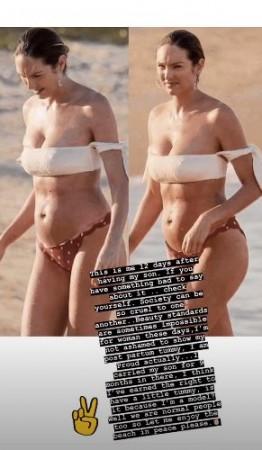 "Is it because I'm a model? Well we are normal people too, so let me enjoy the beach in peace please," she shared.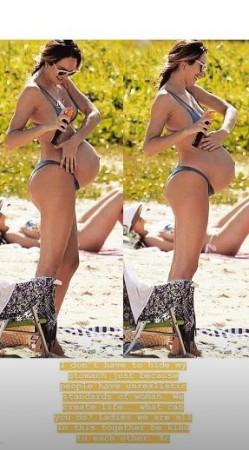 "I don't have to hide my stomach just because people have unrealistic standards of women. We create life..what can you do? Ladies, we are all in this together be kind to each other," she added.
Swanepoel and Nicoli also have a son, Anaca, who was born in October 2016. In May, she had expressed her joy of motherhood on Mother's Day. She wrote on Instagram: "Motherhood isn't always easy but it's the most rewarding, powerful thing I've ever experienced, so many different emotions each and every day. The unconditional love i feel for my son gives me a strength I never knew I had. It's a patient and gentle strength that only comes with the enormous responsibility of bringing another soul into the world. Sending love to all the mamas out there, we are all just winging it and doing the best we can do. There is no formula to being a good mom. Just love with all your being."