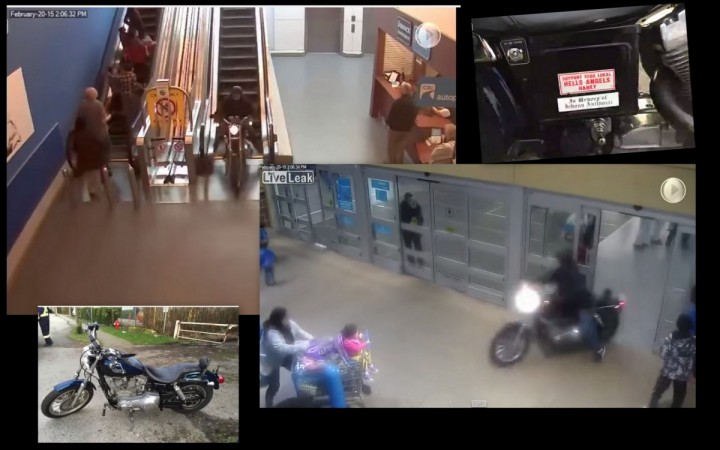 A video has emerged online showing the Canadian police being taken on a wild chase by a man riding a Harley Davidson through a Walmart Store in Surrey.
Reports claim that the Canadian police have launched a criminal investigation into the matter. The video footage seems to have been taken from security and police vehicle cameras, and posted on LiveLeak, a website where users can anonymously upload video clips, two days ago.
The viral video is that of a 20 February incident when the Surrey RCMP were called in with a report that a motorcyclists had been driving recklessly through the neighbourhood of Guildford. The leaked video shows the motorcyclist being chased by Surrey RCMP through the Guildford area.
The man on a Harley Davidson then enters the Guildford Town Centre Walmart's stairwell and proceeds to drive down the escalator, with an officer following on foot. The motorcyclists then exits through the store's entrance, barely missing crashing into a mother and child. At this point an officer in a helicopter above says, "Holy s**t!
The motorcyclist then reportedly rides off into Tynehead area, where he uses pedestrian overpasses and bridges to escape the police vehicles, while forcing pedestrians to hurriedly move out of the way.
It is reported that the rider abandoned the motorcycle, which bore a stolen number plate, in a forest area in North Surrey and escaped. Since then, the Surrey RCMP have been investigating the matter, however, the case has not made much progress.
The video, in the meantime, has gained huge popularity and is gaining major traction on YouTube.