Hardik Pandya is gradually becoming an important member of the current India team. He has already established himself as a key all-rounder in the limited overs format and now Pandya is turning it on, wearing India whites as well.
The right-hander showed his incredible batting skills en route his maiden Test century in the ongoing third Test against Sri Lanka on Sunday. Pandya smashed his maiden ton off 86 balls, which comprised an astonishing 7 sixes. He was dismissed for 108 runs.
In one of Malinda Pushpakumara's over, he even hit 26 runs, which included three sixes. It is such kind of hitting that reminds us of former Test cricketer MS Dhoni, who is an incredible big hitter. Pandya has become one of the best finds in the recent years.
With Dhoni is still playing for India in limited overs cricket, Pandya should keep a close eye on the former India captain, the way he bats and learn the act of being patient as well from the Jharkhand man.
Is Pandya the next MS Dhoni?
Though one witnessed Pandya's amazing batting skills in Test cricket on Sunday, he has already been a good contributor for Team India in ODI and T20 format as well.
His aggressive batting is more suited to limited overs cricket, and with the likes of Dhoni, who has always played the role of a finisher for India in ODI and T20, in the fag end of his career, Pandya's rise in world cricket has come at the right time.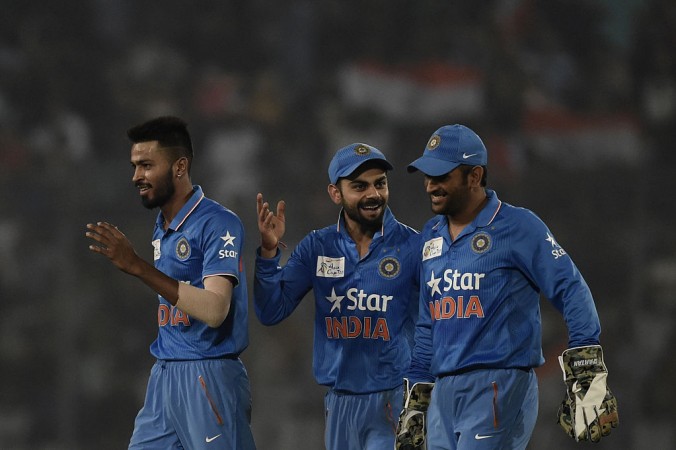 Pandya has all the ingredients, including the big six-hitting skills and the ability to kill games, which makes us realise that India cricket is in safe hands. Dhoni can safely pass the baton to Pandya.
One can also draw some parallels between Dhoni and Pandya. Dhoni was a master at hitting the balls for massive sixes and the same is with Pandya. Dhoni knows how to bat around with the tail, and Pandya, en route to his maiden century, showed us a major glimpse of that aspect too.
If the need arises, Pandya can curb his natural aggression and play according to the situation of the game, which is an important characteristic for such six-hitters. One cannot depend on big hits each and every time, therefore, the player has to mould his game accordingly as well.
Along with his incredible six-hitting ability, Pandya is a good bowler, who can take important wickets at regular intervals. His gentle medium pace can be a huge weapon for India, and his inclusion in the team also allows Kohli an additional slot in the team.
Hey, let us be patient too
However, one should not read too much into his bright start to his international career, where he has been a success so far. The Indian player has not featured for India abroad in Test matches, where he will surely be tested in all departments of the game with Virat Kohli's men set to play some good number of cricket matches, away from home next season.
If one looks at his performances so far, Pandya has all the ingredients to become a fine player for India, but he also has to learn the art of batting under different conditions. With senior players like Kohli, Shikhar Dhawan and others, and Ravi Shastri as the coach, they should play an important role in guiding the player and show him the way for a bright Test future as well.