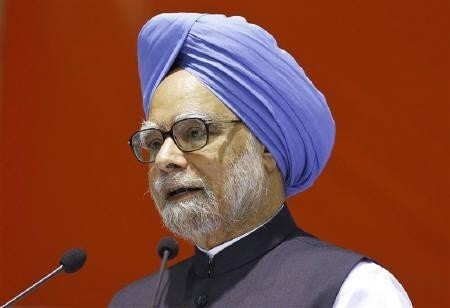 The major revamp at Prime Minister Manmohan Singh's Cabinet took place on Sunday, with 22 ministers being sworn in at a brief ceremony that marked the entry of younger Congressmen into the government.
"A mix of experience and youth - 22 ministers sworn in at Rashtrapati Bhawan," the Prime Minister's Office said on Twitter.
The big reshuffle saw five ministers of state - Dinsha Patel, M.M. Pallam Raju, Harish Rawat, Ajay Maken and Ashwani Kumar - elevated to Cabinet rank. Former deputy chairperson of the Rajya Sabha K. Rehman Khan and Jodhpur Constituency MP Chandresh Kumari Chandreswari Kumari Katoch were the two new faces in the Manmohan Singh Council of Ministers, Press Trust of India reported.
Actor-turned politician K Chiranjeevi and Congress spokesperson Manish Tewari were promoted to being minsters of state with independent charge.
According to IANS, Chiranjeevi's entry into the Manmohan Singh government is expected to help the prospects of his Praja Rajyam party, which formally merged with Congress in 2011, in the wake of challenges from Jagan Mohan Reddy's YSR Congress.
Out of the 13 ministers of state, 12 were new faces. Among them were Tariq Anwar, Kodikkunnil Suresh, A.H. Khan Chowdhry, Adhir Ranjan Chowdhry, Deepa Dasmunshi, Sarve Satyanarayana, K. Jaya Suyra Prakash Reddy, P. Balram Naik, Killi Kriparani, Lalchand Kataria, Ranee Narah and Ninong Ering. Shashi Tharoor rounded up the list, taking his position as minister of state two and a half years after he was let go in the wake of the IPL controversy.
Sunday's reshuffle was Manmohan Singh's attempt to overhaul the organisational structure of his council ahead of the 2014 general elections. The PM had expected Rahul Gandhi to come on board, but said the Congress leader opted out as he wanted to strengthen the party, The Times of India reported.