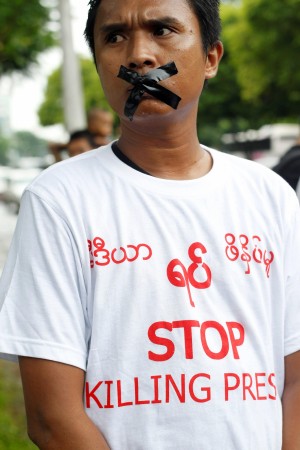 Four journalists and a magazine executive have been sentenced to 10 years of hard labour in Burma for publishing an investigative news story.
The reporters from now defunct Unity journal had published an investigative report on weapons factory. The report had cited various evidences to prove that the military had seized farmland in central Burma for installing the factory, which was allegedly built for production of chemical weapons, the Independent reports.
The journal had published the story also informing people that the authorities had denied the report, but they along with the executive, were quickly nabbed by police.
A court in the country on Friday sentenced the five men for violating the 1923 Burma State Secrets Act. They were reportedly found guilty of putting Myanmar's national security in danger by writing and publishing the story.
The incident has quickly triggered reactions from human rights advocates saying that the arrest of journalists and the clamping down on the freedom of speech is getting worse in Burma.
The United States also issued its concern regarding the arbitrary arrest, saying it sent a "wrong message" about the country's obligation to freedom of expression, as per the international law.
The international community including the Unites States, has applauded the country's recent shift from the decades-long military rule to a democracy, but there are widespread concerns both within the country and outside, about the extent to which the country's reformist government were able to protect minority Muslims from sectarian violence.
Recent reforms, shaped by increasing outside pressure, tended to offer semblance of media freedom as recent changes claimed censorship was relaxed. International observers, however, have always casts doubts on whether the election that installed the military-backed Union Solidarity and Development Party, had been a fair move.
The country, also called Myanmar, has undergone sweeping reforms, including measures that would give freedom to the press, after emerging from half a century of military rule in 2011.
But media watchdogs and human rights groups alike say reporters still face intimidation and arrests. The situation in the rural areas is still worst with no sign of any improvement, even as official censorship has been long lifted.
Amnesty International has described the latest arrest as "a very dark day for freedom of expression in Myanmar."