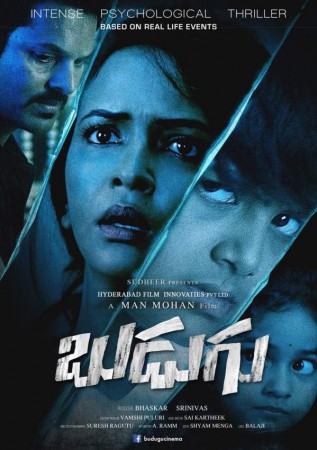 Lakshmi Manchu's much-awaited film "Budugu", directed by Manmohan, hit screens worldwide on 17 April. It has garnered mixed reviews from film critics.
"Budugu" is psychological thriller, which is about a busy couple Pooja (Lakshmi Manchu) and Rahul (Sreedhar Rao), who admit their 10-year-old son Bunny (Prem Babu) to a boarding school. But their son is thrown out of the school for his psychological problems. How these parents struggle to get treatment for their son's psychological disorders forms the crux of the story.
The film's critics are impressed with the concept of "Budugu", but its bad execution has disappointed them. Especially, the last 20 minutes of the film is a big letdown, though the critics have all praise for the lead actors' performances and technicians.
Here, we bring you verdict by various film critics; continue to read "Budugu" movie review round-up.
Budugu is good only in bits and pieces. Interesting concept, Lakshmi Manchu's performance and some thrills in the second half are basic assets. On the flip side, lack of proper narration and a boring first half spoils the flow of this film. All those who like thrillers can try this film if you have nothing else to do. Rest can take it easy.
A good storyline that doesn't get the right kind of treatment. The last 20 minutes should have had imaginative scenes but the film falters on this front.
It's always hard to adapt a real story of a different sensibility into our own and make it appear as a convincing art work. The director Manmohan, brings some sensible sequences in the first, but ends up being loud, boring. It's surprising to see how a sensible start up and message oriented film could go so wrong by the end. The director could have taken a linear approach for storytelling which could have been a smart work had it not been interspersed with unbearable long drawn sequences. Never for once in the film does any thrill make you aghast or appalled. All in all, Budugu is a good concept gone bad. The film could've worked well if the execution of it may have been better.
It's a different film and worth to try once if your big fan of horror genre movies. - See more at: http://thebharatnews.com/budugu-movie-review/#sthash.G6f7gV5D.dpuf
Budugu ends up as an average fare. A little more care to the script and adding more thrilling elements would have done wonders to the film. It will appeal to the family audience and masses will find it to sit throughout the film.