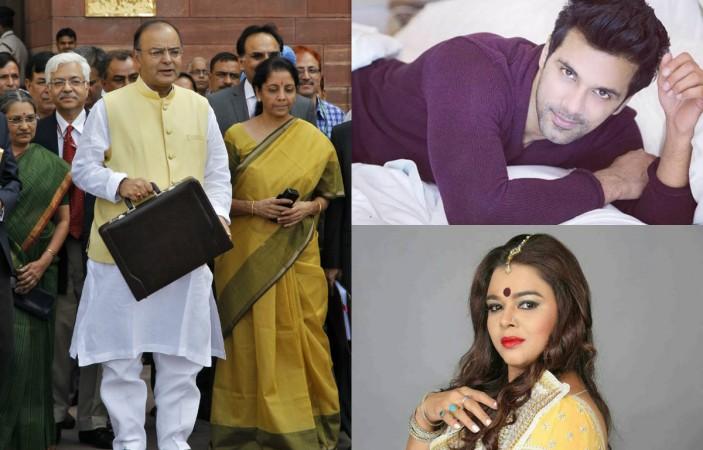 Ahead of India's Union Budget 2018, which will be presented by Finance Minister Arun Jaitley on February 1, television and Bollywood stars spoke about their expectations and wished to see movies tax-free. However, they have stressed more on the healthcare sector.
International Business Times India caught up with a few celebrities over a candid chat to know what they expect from this year's union budget.
Bollywood actor Ashmit Patel wants the government to focus on the healthcare system and bring a change that could help the older generation.
"I wish that this budget has some more progressive move. The BJP government and Prime Minister Narendra Modi should focus more on education, infrastructure and very importantly on healthcare. I think healthcare sector needs complete revamp," he told IBTimes India.
Roop Durgapal, who is known for playing the role of Sanchi in the popular show Balika Vadhu, wants the budget to focus on women's health.
"I feel sanitary napkins should be made tax free as these are the items of the most basic necessity for almost half of the population. Sanitation and basic hygiene for women in India have been neglected for ages and putting it out on the budget this time will finally make a point that we are now serious about women's health," she felt.
Hawaa Hawaai actor Anuj Sachdeva wants the government to focus on the healthcare industry. He also wants the government to start some incentive system to push for more digital transactions.
"...besides sizeable funds should be allocated to employment, education, women and child safety, healthcare and most importantly agriculture. I think medical tests, medicines are something we need to cut down our taxes on as well as we need to allocate funds for disaster management so that we are better prepared for any kind of natural or manmade disasters," he said.
"Also, one thing I would like to suggest is - the government should start some incentive system for those doing digital transactions. This will help their cause of making India for digital money friendly. If possible also increase the income tax slab and also the income tax exemption rate."
Television and film actress Gulfam Khan wants the diesel and petrol price to go down.
"The GST can be reduced. Essential products like basic food pulses, hygiene products are made tax free. Diesel petrol price should be reduced which will have a positive effect on the entire economy. Housing loan interest rates should be cut so the middle class can afford the mortgage. Tax exemption limit should be raised, All in all, it should be easier for the middle class working individual to survive comfortably."
Model, actress and social worker Mahika Sharma wants movies to become tax-free: "I feel movies should be made tax free. Also, there should be no tax for two things i.e. milk, rice. I feel even medicine should be tax-free. Rest I believe our government, they will do the best."
On February 1, Jaitley will present the first Union Budget post the implementation of GST.