The health care sector is high on hopes in the run-up to the Union Budget 2018, which is the last full plan pitch by the current NDA government. While the healthcare industry wants more sops, new technology and investment, taxpayers are also expecting greater tax exemptions to health care costs.
Due to the low penetration of health insurance, a vast chunk of the population is bearing health care costs themselves. Healthcare providers and medical devices and pharma industry have been seeking changes in tax regulations and duty structure. And there is a call for initiatives to widen the health insurance coverage for individuals.
It is expected that the government may find ways to cover the hitherto uncovered population under health insurance. Measures to encourage and empower health facilities in rural areas could also be unveiled in the budget.
The budget, it is hoped, will allow tax exemptions and allocate more funds for new hospitals in villages and rural areas. Zero GST on medical equipment is another strong demand from the industry.
International Business Times India spoke to people from health industry to understand their expectations from the Union Budget 2018.
Also read: What middle class and salaried people can expect?
Here's what the experts expect the finance minister to do for the health sector in Budget 2018:
Private-public partnerships for wider coverage
Bhavdeep Singh, CEO Fortis Healthcare Limited, says there is an urgent need to strengthen the healthcare sector to address the growing disease burden on the country. As an instrument of change, the budget can create more avenues for a major play for private-public partnerships for wider coverage of quality healthcare in the country.
Apart from widening and strengthening primary healthcare platforms, it is imperative that we strengthen our secondary and tertiary care in the country as well, he says.
By supporting initiatives like tax holidays for new hospitals as well as strengthening the medical insurance sector to make quality healthcare affordable, the budget offers an opportunity to bring in some quality change.
The out-of-pocket expenses incurred by people should be reduced by way of wider medical insurance coverage so that quality healthcare is affordable and accessible to all.
In addition to the above, the dearth of doctors is a crucial area where we need some serious steps. By developing talent, we will not only improve the existing doctor/patient ratio, but we shall also make a positive impact on patient care and experience.
Due to the rising demand for quality healthcare, the doctors have been under tremendous pressure. Talent development should be our tonic to arrest this fatigue in tandem with a viable environment for more investment in healthcare.
A forward-looking policy that provides a pragmatic framework for private healthcare to set up medical and nursing schools will be a welcome move to make India stronger in the sector. With adequate and sustained support from the government, the industry is ready to take up this challenge to invest resources to develop infrastructure as well as talent.
2. Offer tax benefits to private sector
Suneeta Reddy, managing director at Apollo Hospitals, says the budget must acknowledge that quality of healthcare delivery is non-negotiable. Quality care demands heavy investment of capital, and more importantly, skilled manpower, both of which are in short supply, leading to an acute crisis in healthcare delivery.
The public, government and the private sector come together now to create a partnership of trust, which empowers the private sector to create and build capacity. The government should incentivise the private sector with carefully structured tax benefits, she says.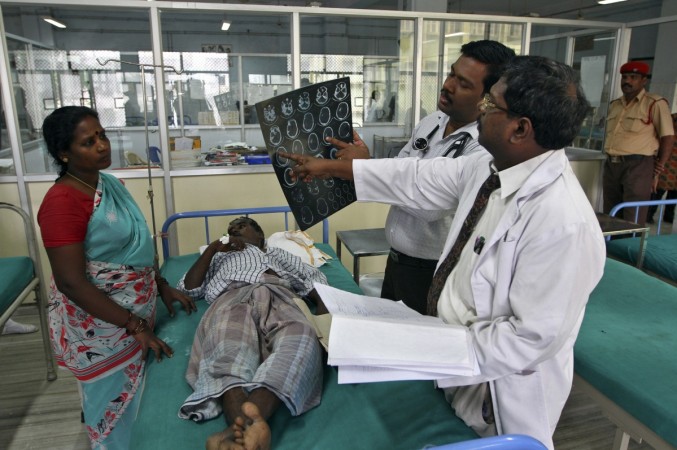 3. Hike medical reimbursements limit
Khushroo A. Pastakia, CEO & managing director of Voxtur Bio Ltd, says that, in order to align with inflation and the increasing cost of living, the government should rationalise the personal taxation limit and hike medical reimbursements limit from its current yearly slab of Rs 15,000 for salaried employees.
Medical Technology Association of India has urged the government to provide a tax holiday to medical device R&D centres under the Transfer Pricing Act to boost investment in innovation-based in-house capabilities. The association has also demanded tax incentives for the industry for developing global patents from India and tax deduction on income made by individuals or a company for rewards earned on patent development or licensing of patents. The association has also said that Safe Harbour guidelines should be provided for pharmaceutical companies which are exporting products under loan licensee.
Also Read: Experts speak on what Finmin must do for health, IT, realty and other key sectors
4. Increase in healthcare funding
Vineet Singhal, country head, Shire India, highlights the need to put more money in the health sector. In India, the current spending in healthcare is about 1.4 percent of GDP. An increase in this could substantially improve access to care and treatment for millions of Indians. Singhal says the sector hopes a significant increase in healthcare funding will be announced in 2018.
For people with rare diseases, the introduction of a new National Rare Disease Policy last year was a welcome move. However, more effort is needed to improve access to diagnosis and therapy for these challenging conditions.
He adds that policies that promote innovation in the industry and drive improvements in healthcare infrastructure are needed to address the needs of rare disease patients and other specialised conditions. "We believe that more inclusive programs and innovative public-private partnerships (PPP) under the country's National Health Mission 2020 would further support patients and help ensure a healthy India."