BTS, the South Korean boy band also known as Bangtan Boys or Beyond The Scene, has released a new music video, titled DNA, on Monday, September 18. The track belongs to their fifth mini-album Love Yourself: Her.
The music video features the seven-member group showing off their epic dance moves while whistling in the background. The clip does not just show the young Korean heartthrobs' solo performance but it also features the group's moments.
In the music video, the K-Pop idols move around wearing a variety of retro outfits as the background changes into different colourful scenes. From Jungkook to V, every member makes eye contact with the viewers in the track.
Also read: Shocking revelation by Baekhyun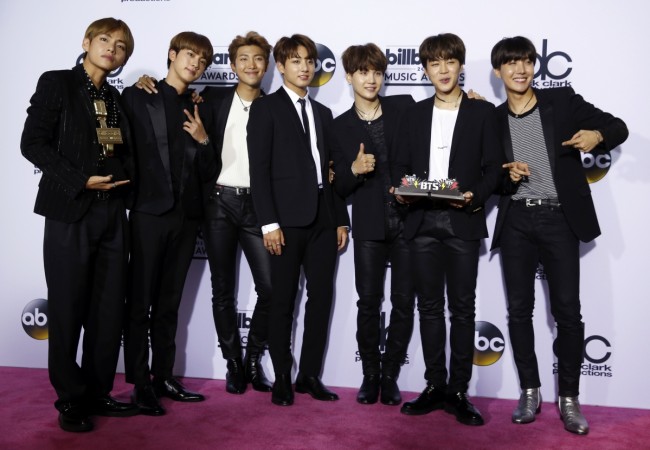 In a statement released by the seven-member group, they explained the origin and meaning of the new track. "DNA' is about the expression of a younger generation's sweet and passionate heart of love. The song has a fresh sound which is still BTS-like but encompasses an addictive whistle, acoustic guitars and some electro-pop sounds," read the statement.
The K-Pop idols also dished about their collaboration with American production duo, The Chainsmokers. According to them, the opportunity motivated them to dream high and expand their reach in the music industry.
"I never imagined working together with The Chainsmokers before our debut. Before our debut, my goal was to perform at the Olympic Stadium, but we're receiving offers that would have been impossible to even imagine. We also want to see how far we can go, and if we make it into the Hot 100, we'd like to go as far as possible to leave many milestones in (music) history," team leader Rap Monster said.
Here is how the critics review the new album by BTS, titled Love Yourself: Her
The Hollywood Reporter
We're so into their entire new album. Love Yourself: Her is a total banger. Featuring collaborations with The Chainsmokers and more amazing artists. Their song, "Best Of Me" is insanely good.
The Bangin Beats
Produced by Slow Rabbit and the 'Closer' hit makers, the upbeat, dance-influenced single is a sensational effort between the two acts, which sees the BTS members deliver an infectious vocal performance atop the duo's signature pop-coated production. A colossal release which boasts of all the ingredients to become a future smash hit.