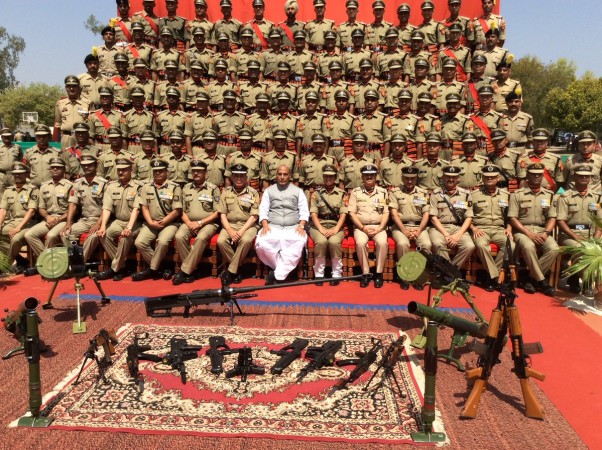 Union Home Minister Rajnath Singh on Saturday congratulated the Border Security Force (BSF) for getting its first woman field officer in the form of Tanushree Pareek. He was speaking at their passing-out parade at Tekanpur in Madhya Pradesh's Gwalior district.
Also read: India is almost done fencing its borders with Pakistan, Bangladesh and Myanmar to curb infiltration and smuggling
The BSF, it may be noted, had its first woman officer in the form of Indian Police Service (IPS) officer Satwant Atwal Trivedi, who had joined the force as Deputy Inspector General in 2015. Pareek started training last year and graduated this year as part of the 64-member batch.
Pareek, a resident of Bikaner in Rajasthan, was selected to become the first BSF field officer following an all-India examination conducted by the UPSC in 2014. She was the first woman to gain direct entry into the BSF, which had started inducting women into its ranks in 2013.
Speaking at the occasion, Rajnath Singh praised Pareek for becoming the first woman field officer of the BSF. He also praised the force, saying: "BSF is the only force after the Indian military which operates on land, water and air. BSF is not only the 'First Line of Defence' but also the 'First Wall of Defence'."
He added: "Many BSF officers and jawans have laid down their lives in service to the nation. I pay my homage to those martyrs. The Central government has now chalked a new roadmap to strengthen our border security. We plan to seal the international borders with Bangladesh and Pakistan."
The Home Minister also spoke of the manner in which several armed forces personnel had taken to the internet to upload videos where they are seen airing their grievances. "We are planning for an effective grievances redressal mechanism in the forces. The forces are coming forward with such a mechanism," he added.
Later, Singh also took stock of other facilities at the Tekanpur Academy of BSF, including its National Training Centre For Dogs. See photos from that visit here: