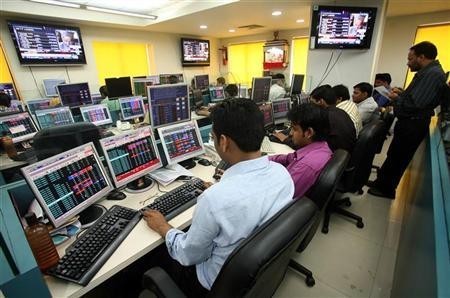 The BSE Sensex started the day on an upbeat note at 24,868.72 points at 9.00 am. It recorded quite a few rises during the pre-opening time slot, first reaching a high of 24,917.16 a minute later, and touching the 24,931.43 mark at 9.04 am.
It kicked off trading at 9.15 am at 24,828.12 points and rose by 7.43 points. However, minutes later the sensex plunged under selling pressure, recording a drop of 16.89 points reaching 24,818.66 points.
Currently the sensex is trading at 24,842.62, which is a decrease of 15.97 points from what it started the day with. In terms of percentage, it has recorded a plunge of 0.06 percent.
The top gainers and losers this morning are:
Gainers:
Symb Last Change Chg %
SASL.BO 13.56 +2.26 +20.00
JICL.BO 19.20 +3.20 +20.00
ASGI.BO 48.65 +8.10 +19.98
VIPO.BO 107.90 +17.95 +19.96
NCLI.BO 31.30 +5.20 +19.92
Losers:
Symb Last Change Chg %
OMEG.BO 57.75 -14.40 -19.96
MHVR.BO 8.72 -2.17 -19.93
DQEN.BO 27.45 -5.05 -15.54
KSSL.BO 16.05 -2.95 -15.53
SBET.BO 155.00 -20.00 -11.43
Meanwhile on Tuesday, the BSE Sensex closed on a record high, clocking in gains of 0.7 percent. The gain comes after metal stocks of Tata Steel surged due to good performance in the last few months. Additionally, the Reserve Bank of India announced its policy review and lived up to the expectations of analysts, holding the interest rates steady and loosening its stand on inflation rules.
"I am hopeful that we may see a rate cut soon provided the government's administrative actions finally succeed in reducing food inflation," Motilal Oswal, chairman and managing director at Motilal Oswal Financial Services Ltd told Reuters.
Contributing to a higher index, companies that recorded a surge are:
Tata Steel: 6.9 percent
Steel Authority of India: 4.3 percent
JSW Steel: 4 percent
Sesa Sterlite: 6.4 percent
Ambuja Cement: 3.7 percent
ACC: 2.5 percent
Bajaj Hindustan Ltd: 10 percent
Zee Entertainment: 2.3 percent
HDFC Bank: 0.5 percent
Kotak Mahindra Bank: 1.5 percent