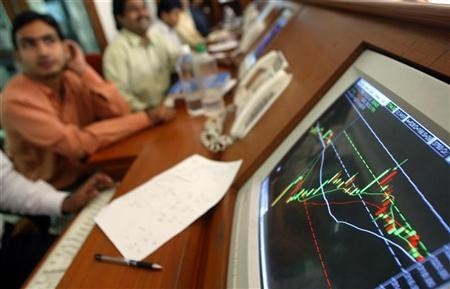 The sensex at Bombay Stock Exchange started the day on a slightly lower note as the monthly derivatives are set to expire today. The sensex took off at 24,490.33 points at 9.00 am.
After witnessing a few high and dips in the pre-opening time slot, it peaked to 24,537.25 points at 9.05 am. When the markets opened at 9.15 am, the sensex was trading at 24,469.56 points.
After a rise of 22.06 points two minutes later, it again plunged to 24,462.99 points. It witnessed a rise at 9.25 am once more and is currently trading at 24,498.46 points.
The list of early morning gainers and losers include:
Gainers:
Symb Last Change Chg %
MSUM.BO 118.05 +19.65 +19.97
DNCI.BO 25.50 +2.70 +11.84
QUAD.BO 4.25 +0.43 +11.26
KDDL.BO 94.35 +8.55 +9.97
LOGI.BO 13.15 +1.18 +9.86
Losers:
Symb Last Change Chg %
SYCH.BO 0.75 -0.16 -17.58
ASPT.BO 515.00 -71.10 -12.13
YANT.BO 0.08 -0.01 -11.11
ALLS.BO 26.65 -2.75 -9.35
EAST.BO 2.00 -0.17 -7.83
Indian shares saw a rise on Wednesday, as stocks of Ultra Tech Cement rose from buying. However, majority of the rise was due to foreign investors selling on a modest note and caution ahead of May derivatives expiry.
BSE clocked a gain of 0.03 percent and shares of Jet Airways plunged due to the quarterly loss.
While investors await new measure to be implemented by the new government, Hemant Kanawala, equity head at Kotak Life Insurance advised investors to have faith on the reforms.
"Have faith in the new prime minister for taking the right decisions," Kanawala told Reuters. "He has given the direction andthere would be continuous monitoring of the ministerial appointments."