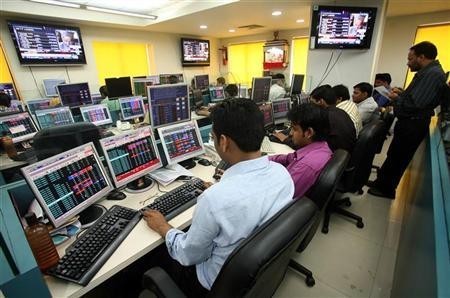 The BSE Sensex started flat on Friday compared to the last few days. The pre-opening time slot saw the sensex trade at 24,234.15 points for a while, after which it gained momentum recording a rise of 66.84 points.
The market opened at 24,300.99 but recorded a dip of 11.82 points minutes later. Since the dip the sensex has shown an erratic pattern and has recorded a few rises and plunges.
While it has until now recorded a high of 24,350.82 points, it also clocked quite a sizeable plunge reaching 24,255.18 points. The market is currently trading at 24,262.58 points, which is 28.43 points higher than it started. In terms of percentage, the sensex has seen a rise of 0.12 percent.
The top gainers and losers early this morning are:
Gainers:
Symb Last Change Chg %
RLTN.BO 215.60 +35.90 +19.98
MSUM.BO 118.05 +19.65 +19.97
VYPR.BO 43.00 +7.15 +19.94
LEWA.BO 1.49 +0.24 +19.20
AMDM.BO 22.00 +3.51 +18.98
Losers:
Symb Last Change Chg %
ACSP.BO 0.21 0.05 -19.23
MARK.BO 21.25 -4.60 -17.79
IGSL.BO 10.32 -2.15 -17.24
NHIE.BO 63.20 -11.60 -15.51
BJEL.BO 319.90 -50.35 -13.60
Meanwhile on Thursday, the BSE index fell 1.31 percent, which is the biggest fall in almost four months, and NSE recorded a loss of 0.27 percent, biggest since 13 February.
The figures were also affected when foreign investors sold shares at a much lower amount, compared to the strong buying earlier. The figures tumbled further below by afternoon with the expiry of monthly derivatives contracts.
DLF shares witnessed a fall of 4.1 percent, as it Q1 earnings didn't live up to the expectations and IT giant Infosys too recorded a fall of 7.9 percent, after its president and board member B.G.Srinivas resigned from office.
However, analysts believe that the figures will improve once the Reserve Bank of India reviews its policies and the new government brings about some reforms.
"We find this as a healthy correction. The election event is over and we have a stable government in place. I think, fresh position building will happen from next week as we have RBI policy and the parliament proceedings will start," Suresh Parmar, head, institutional equities at KJMC Capital Markets explained to Reuters.
"The undercurrent is still positive and we advise clients to get into good quality stocks at declines."