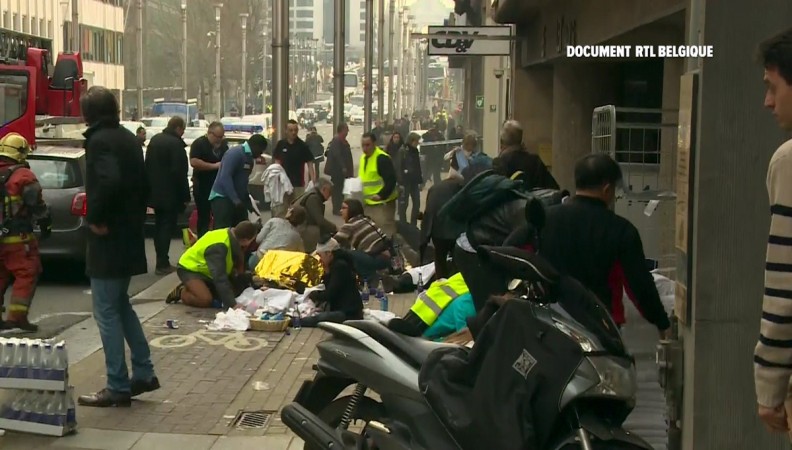 Even as the Belgian police are looking for a suspect following the bombing at the Zaventem airport in Brussels, another suspect is believed to have been involved in the attack at the Maelbeek metro station that killed 20 people Tuesday. Belgian media reported Thursday CCTV footage had shown another person along with Brussels metro bomber Khalid el-Bakraoui.
Over 30 people were killed in blasts at the Brussels airport and the metro station, for which the Islamic State group claimed responsibility. Belgian authorities identified two of the bombers as the El Bakraoui brothers Ibrahim, 29 and Khalid, 27, both of whom had criminal records in Belgium. A third bomber who struck at the airport has reportedly been identified as Najim Laachraoui, who was also suspected to have had links with Paris attack suspect Salah Abdeslam.
Authorities now believe a second attacker was involved in the Maelbeek metro bombing along with Khalid El Bakraoui, according to Belgian public broadcaster RTFB. CNN also reported on a second metro bombing suspect, citing Belgian security sources.
The Belgian police have already launched a manhunt for a third suspect from the airport attack, who was seen along with the two bombers on CCTV footage before the explosions. The suspect, who was seen wearing a light jacket and a hat, reportedly fled the airport without detonating his suitcase bomb, which was found at the airport later.
The Brussels blasts are believed to have links with the November 2015 Paris attacks, which were also claimed by ISIS, as Laachraoui was suspected to have made the explosive belts used by the Paris attackers, according to Reuters. He was also identified as one of Abdeslam's accomplices.
The Brussels attacks came days after Abdeslam's arrest last Friday. However, he has claimed he "didn't know" about the Brussels attacks, his lawyer was quoted by AFP as saying Thursday.