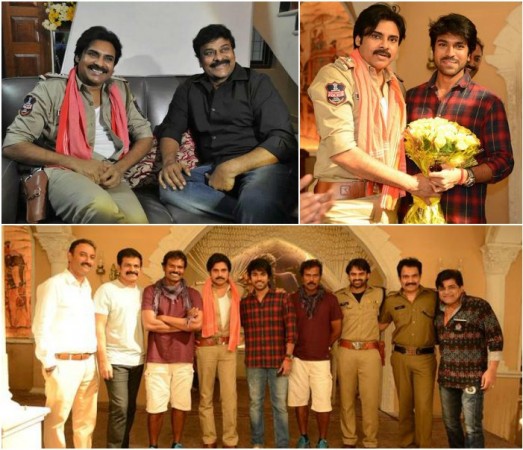 Telugu star Pawan Kalyan took some time off from his busy shooting schedule of "Sardaar Gabbar Singh" to meet and congratulate his brother Megastar Chiranjeevi and nephew Ram Charan on the huge success of "Bruce Lee".
A lot has been written about the sour relationship between Pawan Kalyan and Chiranjeevi. After he launched a political outfit called Jana Sena, 'Power Star' Pawan Kalyan has given a miss to almost every event of the 'Mega' family. The two have not been seen together on any occasion, disappointing their fans.
It was speculated that Pawan Kalyan and Chiranjeevi have part ways and would be never seen together. However, the Power Star surprised everyone by visiting the residence of Chiranjeevi on Sunday, two days after the release of "Bruce Lee - the Fighter". He seemed to have come directly from the set of "Sardaar Gabbar Singh" as was seen in the attire of a police officer featured in the film.
Like all 'Mega' fans, Pawan Kalyan is a great admirer of Chiranjeevi and had worked hard for building the political career of his brother. He has been desperately looking forward to the Megastar's comeback for the last seven years.
Pawan Kalyan gave a bouquet to 'Mega Power Star' Ram Charan Teja and congratulated him for the success of "Bruce Lee - the Fighter". He lauded him for his electrifying performance in the movie. He also thanked the young actor for making an effort to bring Chiranjeevi back to the big screen.
Pawan Kalyan also congratulated Chiranjeevi by presenting him a bouquet. He reportedly sat with the Megastar talking about his upcoming movie. The occasion was a treat for the photographers.
The photos featuring Pawan Kalyan with Chiranjeevi and Ram Charan went viral in the social media within an hour after they hit the Internet. Mega fans were all thrilled to hear the news about the reunion of the Megastar and the Power Star.
.@PawanKalyan Met Chiru Today at the latter's his Residence. A welcome courtesy Call. pic.twitter.com/v0Nqlb74Vc

— ABO™|AndhraBoxOffice (@AndhraBoxOffice) October 18, 2015
#PSPK @PawanKalyan Congratulates #RamCharan on the Success of #BruceLeeTheFighter Frm Set of #SardaarGabbarSingh pic.twitter.com/lr88cMg8Lp — Sharrath Marar (@sharrath_marar) October 18, 2015
#SardaarGabbarSingh Team with #PSPK @PawanKalyan Congratulates #RamCharan on the Success of #BruceLeeTheFighter pic.twitter.com/FrqwpKoDHB

— Sharrath Marar (@sharrath_marar) October 18, 2015