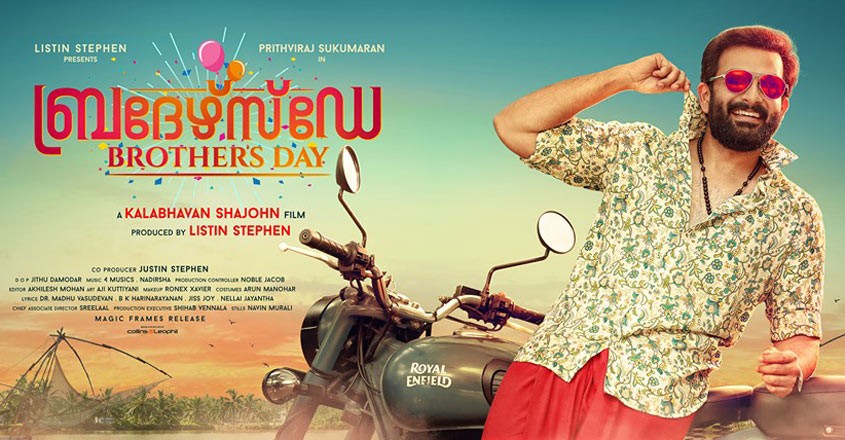 Kalabhavan Shajohn's Malayalam movie Brother's Day starring Prithviraj, Aishwarya Lekshmi, Prayaga Martin, Madonna Sebastian, Miya and Prasanna has got positive review and rating from the audience.
Brother's Day is a family thriller. Kalabhavan Shajohn, who is making his directorial debut, has written the script for this movie, which is produced by Listin Stephen under his banner Magic Frames. The flick has received a U/A certificate from the censor board and its runtime is 2.45 hours.
Brother's Day story: Along with Joy and Munna, Ronnie (Prithviraj) runs a hotel and catering service in Fort Kochi. One day, he meets an unexpected guest Chandy (Vijayaraghavan) and they become very close. After hiding his identity for some time, Chandy discloses his identity and introduces his daughter Santa. When Santa meets Robin, a lot of unexpected events follow and this form the crux of the film.
Performances: Prithviraj Sukumaran has delivered superb performance, which is the highlight of Brother's Day. Prasanna. Aishwarya Lekshmi, Prayaga Martin, Madonna Sebastian, Miya, Aima Rosmy Sebastian, Vijayaraghavan and Kottayam Nazir have done their best and they are also among the attractions of the film, says the audience.
Brother's Day movie review live updates: We bring you some viewers' verdict on the film shared on Twitter. Scroll down to see the audience's response.
Forum Keralam (FK) @Forumkeralam1
#BrothersDay Interval: Mostly melodramatic and cliched but fair amount of comedies working at parts while few are flat. A welcome change to see Prithvi in a lighter, jolly character. Vijayaraghavan is in form though his character is bit loud. Average 1st half. #BrothersDay: With a complete serious 2nd half the film falls flat without serving the purpose in anyways ending on a below average note. Shajon struggles to blend the issues he dealt with a beaten to death execution. Neither Prithviraj nor the rest of the cast could save it
Dark Knight The Unpaid Critic @UnpaidCritic_
#BrothersDay #Review First half has comedy elements some clicks some are not. #Prithviraj looks good in this commercial space. Overall decent first half✌ #BrothersDay #Review Decent first half goes to a serious second half. The villain is shown well. But as a whole the movie falls below expectations. Its decent but nothing extra ordinary . 2/5⭐
South Movies Online @southmovonline
#BrothersDay A melodramatic movie. #Prithviraj leaves his serious character like in Pavada & Amar Akbar Anthony. Comedy scenes are not clicked some times but sometimes it makes laugh. Vijayaraghavan highlighted his presence through his character.
sameer baghela @sameerbaghela
Pakka super hitttt #brothersday #onamrelease Listin Stephen Justin Stephen Superb screenplay Good direction @prithviraj and other actors #watchitttt
Forum Reelz @Forum_Reelz
#BrothersDay : Interval : Average First Half With Decent Amount Of Entertainment , Felt It Was Too Lengthy Good To See #Prithvi In A Pleasant Role After A While Interval Block Leaves With Something Thrilling To Expect In The Second Half #BrothersDay : Review : Average First Half Followed By A Plain Second Half & Predictable Ending #Prithvi Had Limited Screen Space In Second Half , #Prasanna Did A Good Job #Shajon Was Ok In Making But Failed With His Script Overall A Forgettable Debut By #Shajon
Kerala Box Office @KeralaBxOffce
#BrothersDay: Strictly an average flick. Some comedies were good & Irritating too. Prithviraj Direction Rating: 2.5/5
Cine Maniac @cinemamaniacss
#BrothersDay Firsthalf: An Average 1st half without much deep into the story. Offers few laughs at parts which worked well while some falls flat Too much melodrama & cliches @PrithviOfficial is back in his entertainer track Very long First half. Story yet to unfold....