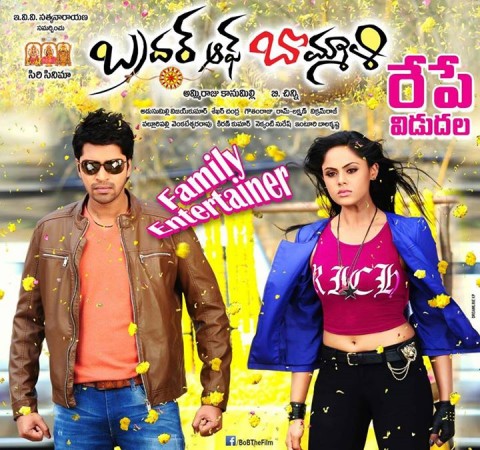 Director Chinni Krishna's "Brother of Bommali" has hit the marquee on 7 November. The comic quotient of the film has apparently lured the viewers.
"Brother of Bommali" is a full-length comedy entertainer with other commercial elements to woo the masses. The film has a totally fresh subject, which has not been explored in Telugu cinema before.
Written by Chinni Krishna, the film is about a brother and sister. How the sister ruins her brother's life and how her meek brother helps her love life will form the crux of the story.
Allari Naresh plays the brother, who relies upon his sister for support. Monal Gajjar, who debuted through Naresh's blockbuster movie, "Sudigadu", has played his love interest.
Brahmanandam, Ali and Srinivas Reddy have essayed important roles and their comedy timings are among the big highlights of the film.
Actress Karthika Nair plays the overbearing twin sister of Naresh, while Harshvardhan Rane appears as her love interest. The character is not the usual sister and is more of a tomboy, tantamount to the hero of the film. The actress has got powerful action and romantic scenes; her performance is said to be one of the attractions of the movie.
Kelly Dorjee and Abhimanyu Singh are among the biggest surprises of "Brother of Bommali". These actors, who are known for their villainous acts, have played comic roles in the film. Produced by Ammiraju Kaanumilli, it features songs composed by Sekhar Chandra, which have already caught the attention of the audience.
After watching "Brother of Bommali", which has got 'U/A' certificate, many viewers feel that the director has come up with a novel concept. Others said it is not a typical brother-sister sentimental drama, but an action thriller about a silent brother and his violent sister.
Read "Brother of Bommali" viewers' review.
Proud_Purian
@allarinaresh Has Bounced Back with a Great Entertaining Ride & a Super Hit Movie ! #BrotherofBommali U will all thoroughly Enjoy it Guys :) Done with the Back to Back shows of both #BrotherofBommali & #Joru Loved both the Movies .Especially @allarinaresh #BOB ,Pure Entertainer. For those who Were waiting for a @allarinaresh Comedy Mark Movie, Here it is #BrotherofBommali ..!! Don't miss it @KarthikaNair9 @Actorysr
Harish KV
#BrotherOfBommali Avg flick...better than recent Allarinaresh Mves (mve is like Konavenkat Mves family drama)
Suresh Kondi
First half is entertaining #BrotherOfBommali. Nenu chethho veste Akshinthalavuthayi..Cheyithhethe Anthyakriyalavuthai.-Brahmi in BOB... #Prasa
Kasi Viswanadh
Naku #PowerStar thappa ee stars (Police) gurinchi telidhu : ALI #BrotherOfBommali Racha dialogue
APHerald
#BrotherOfBommali @allarinaresh @KarthikaNair9 @vennelakishore: Ram Lakshman composed first fight is interesting..
Harish Charan
Naku Power Star thappa ee stars gurinchi telidhu : ALI In #BrotherOfBommali