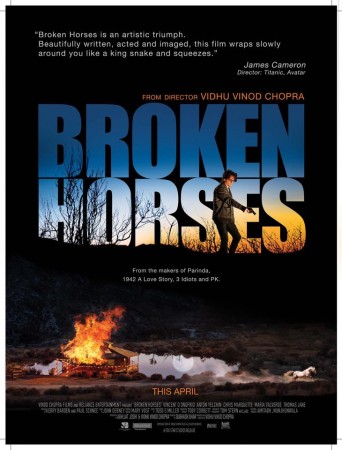 "Broken Horses" is an American mystery thriller directed and produced by Vidhu Vinod Chopra. The film is a remake of Bollywood film "Parinda" starring Anil Kapoor and Jackie Shroff.
The film features Vincent D'Onofrio, Anton Yelchin, Chris Marquette, María Valverde and Thomas Jane in key roles.
Vidhu Vinod Chopra, who is known for producing "3 Idiots" and "PK", makes his Hollywood debut as a director and producer with "Broken Horses".
The film has opened with mixed responses from critics worldwide.
Ben Kenigsberg of Vareitysaid that the storyline fails to convince on several crucial levels.
"The heightened melodrama might play more effectively if "Broken Horses" were stylized at a consistent level, but the proportions are way off, lurching from gritty realism to the near-surreal with little preparation," he added.
Martin Tsai of Los Angeles Times said that the movie "saddles up a classic western about vigilantism."
"While Chopra attempts to crack the American market with a slice of cinematic apple pie, he holds up a mirror to how Hollywood's tried-and-true narrative of vigilantism connotes who we are, at home and overseas," he added.
Gayatri Gauri of Firstpost called the movie a "dud" in her review. "This film isn't exactly Parinda. Chopra has actually eliminated all that was great about Parinda in order to be Hollywood-worthy, including the tender, lovemaking finale between Anil Kapoor and Madhuri Dixit," she added.
Manjusha Radhakrishnan of Gulf News said: "Watch this if you wish to cheerlead an Indian filmmaker making his first foray into Hollywood."
Ananya Bhattacharya of India Todaysaid: "In all, Broken Horses comes across as Parinda, with non-Indian actors. But then, while Parinda was a brilliant film, given its context and milieu, this one doesn't impress as much."