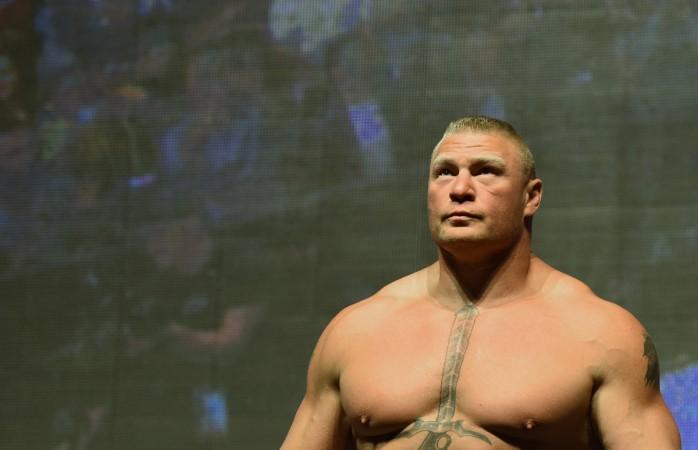 Former UFC Heavyweight champion Brock Lesnar engages in an explosive match at WWE SummerSlam 2017, scheduled for August 20. The 'Beast Incarnate' of the WWE takes on Samoa Joe, Roman Reigns and Braun Strowman in a Fatal 4 Way match, with his WWE Universal title on the line.
Amid this, something very big is developing -- a potential UFC fight between Jon Jones and Lesnar. No, we aren't talking of fantasy warfare or even a video game match-up, but a real fight inside the octagon.
If everything goes as planned, we might get to witness that earth-shattering super-fight in 2018 itself. And it could reach the same magnitude as the boxing match between Conor McGregor and Floyd Mayweather Jr, scheduled for next month.
Fantasy warfare got real
It all started during a Facebook Live interaction by Jones. Answering a fan, the former UFC light-heavyweight champion, mentioned that he would definitely explore the possibility of fighting Lesnar.
"He's a massive dude," Jones said. "It would be a massive draw, really big for the sport. It would be a great challenge. That's a big old boy. I doubt Brock Lesnar would take that fight, though. I definitely wouldn't try to wrestle with him the whole time. I'm not going to tell you what I would do."
Surprisingly, Lesnar, who has a WWE contract until next year, reverted soon: "Would I fight Jon Jones? Anytime, anywhere," Lesnar was quoted as saying by the Associated Press. "Right now he should be worried about DC on Saturday night."
UFC 214: Jones' moment has returned
Jon Jones takes on the current UFC light-heavyweight champion Daniel Cormier in the main event of UFC 214 in California on Saturday July 29.
Several developments have taken place in the life of the 30-year-old Jones, following his last fight against Cormier at UFC 182 in January 2015. Jones won the match but was soon stripped off of the the title after details emerged of his involvement in a hit-and-run accident in New Mexico.
Their rematch was set for UFC 200 in July 2016, but Jones had to pull out after failing a drug test and he was then slapped with a year-long suspension by the United States Anti-Doping Agency (USADA).
Jones vs Lesnar: Fight between two drug violators
Lesnar, meanwhile, fought and won against Mark Hunt at UFC 200. The result, however, was later ruled to a no-contest after details emerged that the WWE superstar failed drug tests before and after the fight.
He, too, therefore received a one-year suspension from the Nevada Athletic Commission.
Earlier this year, Lesnar mentioned he was retiring from Mixed Martial Arts but a possible return for him in the UFC was rumoured after it was claimed that Lesnar has re-entered the USADA testing pool. The rumours were quashed by the UFC but they have maintained silence over yet another possible return for Lesnar in the UFC.
Editor's view
It needs to be seen what actually happens at WWE SummerSlam 2017. Lesnar is facing some of the juggernauts of the WWE in the main event. In case he loses the Universal title, we might start to believe that things are developing at the back.