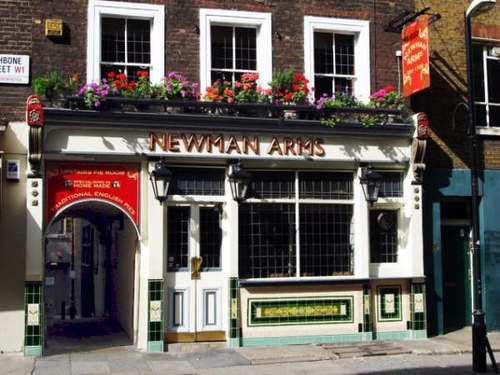 Nothing goes better with a book than a choice glass of your poison - a cold beer, a glass of wine or a shot of whiskey!
Some of the greatest creative minds spent so much time in pubs and taverns to discuss ideas and develop thoughts with like-minded geniuses, and of course share a drink or two.
If you are a literary nerd, to whom the romance of tracking down the exact spots your favourite writers hung out is not lost, then do not hesitate to visit these watering holes in the UK. These are those very pubs, where some of the most celebrated literary minds spoke, fought, wrote and drank together.
It is unfair to speak of place where the literary elite hung out, and not begin with The Rabbit Room of The Eagle and Child pub in Oxford, where the Inklings writing group was formed. The university pub, which dates back to the mid-17th century, served as the official meeting place for JRR Tolkien, CS Lewis and the rest of their writing group from 1933 to early 1950s.
The group met here weekly to distribute and critique each other's unfinished manuscripts. Author Colin Dexter is a more recent patron of the pub. Today, the walls of the cosy Rabbit Room are decorated with memorabilia, framed photos of the authors and a signed document that reads: "The undersigned, having just partaken in your ham, have drunk to your health".
The undersigned, having just partaken in your ham, have drunk to your health... pic.twitter.com/I99h0GKy8w

— Victoria (@Syrin_) April 6, 2014
Made famous in recent years by novelist Ian Rankin in his "Inspector Rebus" novels, The Oxford Bar in Edinburgh is a place where literary greats have been drawing their liquid inspiration since as early as the 19th century. However, the pub's real claim to fame resides with the legendary Willie Ross, whom many Scottish Renaissance writers were known to visit here. One of the best known among this group, Sydney Goodsir Smith immortalized this pub in his "Carotid Cornucopius".
Newman Arms in London, the inspiration for the working class watering hole described in George Orwell's "1984" is another pub that cannot be missed. It has attracted interesting and colourful literary masters including Orwell himself and Dylan Thomas.
Frequented by many of Ireland's literary greats, including Patrick Kavanagh, Toners is especially unique, owing to the fact that it is the only pub WB Yeats ever visited, according to Time Out.
If you are in Dublin, though, there is also the gorgeous marble bar Kennedy's. It has been preserved for literary enthusiasts, who wish to enjoy a beer at the same place as old friends Samuel Beckett and James Joyce. The trivia of "Kennedy's" is especially interesting because Oscar Wilde was not just a drinker here, he used to stack shelves at the formerly attached grocery store.