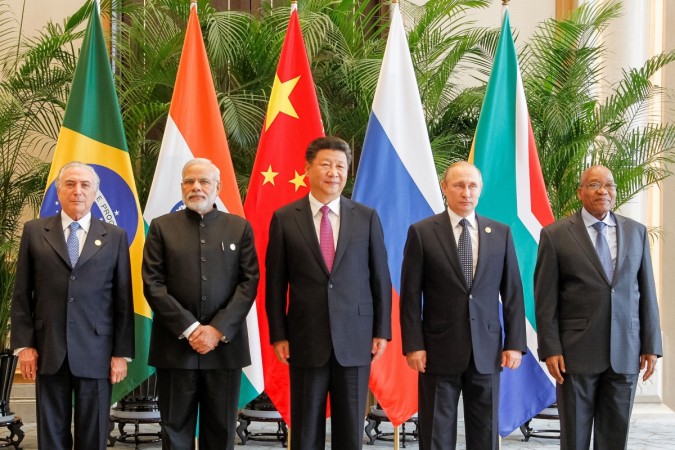 Before heading for the BRICS Summit, Prime Minister Narendra Modi had said terrorism was among the major agendas he wanted to bring up at the meet. The member countries not only addressed terrorism as a global challenge but also named a few terror groups based in Pakistan for the first time.
Read: Prime Minister Modi heads for BRICS summit in China; likely to have post-Doklam talks with Jinping
Here are 10 things you need to know
The five nations issued a declaration at the ongoing Summit at Xiamen in China on Monday. The declaration not only condemned terrorism but also designated Pakistan-based militant groups as global terrorists for the first time ever.
The declaration came as a victory for India, as it has always been vying hard especially with China to identify terror groups in Pakistan and Afghanistan as well.
"This is the first time that it has listed specific organisations," said Preeti Saran, Secretary (East) in the Ministry of External Affairs.
The declaration has named Lashkar-e-Taiba, Jaish-e-Mohammad, Tahreek-e-Taliban Pakistan, Hizb-ut-Tahrir in the list of terror groups based in Pakistan.
The declaration also mentioned a few militant groups which belong to Afghanistan and encouraged the country's efforts to fight the militants.
"We support the efforts of the Afghan National Defence and Security Forces in fighting terrorist organisations. We, in this regard, express concern on the security situation in the region and violence caused by the Taliban, ISIL/DAISH, Al-Qaida and its affiliates including Eastern Turkistan Islamic Movement, Islamic Movement of Uzbekistan, the Haqqani network, Lashkar-e-Taiba, Jaish-e-Mohammad, TTP and Hizb ut-Tahrir," India Today quoted the declaration.
The declaration also condemned all the terrorist activities in all the BRICS nations.
"We deplore all terrorist attacks worldwide, including attacks in BRICS countries, and condemn terrorism in all its forms and manifestations wherever committed and by whomsoever and stress that there can be no justification whatsoever for any act of terrorism. We reaffirm that those responsible for committing, organising, or supporting terrorist acts must be held accountable," the declaration added.
It calls for a celebration for India as it has always tried to identify the militant forces in Pakistan and Afghanistan on the global front. Its effort to blacklist Jaish-e-Mohammed (JeM) chief, Masood Azhar had not yielded any result. Though India and United States had earlier put Pakistan on a notice and even called it terrorists' safe havens, this is the first time that China, one of the biggest allies Pakistan has, also admitted India's stand on terrorist groups based in Pakistan.
This is also a victory for India as on July 31 External Affairs Minister Sushma Swaraj had asked the US to continue its fight against terrorism in Afghanistan.
China has also stood in favour of Pakistan on the Kashmir dispute.


Now that Pakistan, who have been partnering with China in the China–Pakistan Economic Corridor (CPEC) project and in the Kashmir dispute, has been cornered, Pakistan's next move is indeed being awaited by many.
It is assumed that the Summit was a double victory for India as China's efforts in trying to expand its influence by inviting its allies in BRICS has not been paid heed to. India was anxious that this move might result in the dilution of the role played by India and other countries in BRICS.
"India would be the worst affected among BRICS partners. After expansion, the organisation would lose its focus and coherence on development issues and become more like a political platform for China," Mohan Malik, professor at the Asia-Pacific Center for Security Studies at Honolulu in US, was quoted as saying by The National Network.