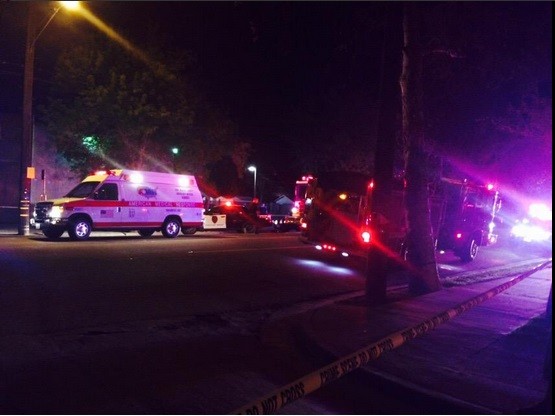 The death toll from a shooting at a market in Stockton, California, on Tuesday night, rose to three, and several tweets suggested that a child had died in the shooting.
The Stockton police confirmed multiple victims in the shooting at Madison Market, and said that one victim had died on the spot.
A second victim reportedly died in hospital from injuries.
After the third death, the police called the incident a 'triple homicide' on their Twitter account.
The area of Madison and Park where the shooting occurred is said to be known for crimes, residents told local reporters.
The suspects are still at large. According to reports, the incident was a drive-by shooting.
SHOOTING UPDATE: This is now a triple homicide.

— Stockton Police Dept (@StocktonPolice) March 18, 2015
Just watched as a lady was informed her child died at the Madison Market in Stockton. Heartbreaking. @FOX40 pic.twitter.com/NRDKnnjfig

— Tia A. Ewing (@TIA_EWING) March 18, 2015
Man says his son was shot and he's waiting to hear what happened here in Stockton. Crime scene has been moved back. pic.twitter.com/Pt9rbaKofk — Tia A. Ewing (@TIA_EWING) March 18, 2015
#BREAKING Confirmed by Stockton Police: Multiple shooting victims in Stockton at Madison & Park. @TIA_EWING is on scene

— FOX40 News (@FOX40) March 18, 2015