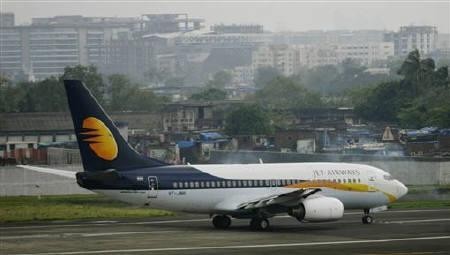 A Jet Airways plane had to make an emergency landing at Khajuraho Airport after facing a technical glitch on Monday.
While some reports suggested that the plane caught fire, the airline did not mention it in its statement.
Jet Airways Flight 9W 2423 was "involved in an accident" on landing at Khajuraho Airport, and all 58 passengers and eight crew members were safely evacuated, the airline said through its official Twitter account.
The aircraft experienced a technical glitch while landing, the statement said. Smoke was reportedly seen after the plane's left landing gear collapsed.
A news organisation put out a tweet suggesting that the plane caught fire, and Jet Airways responded with its statement.
@ibnlive Kindly note the facts about Jet Airways flight 9W 2423. pic.twitter.com/OrTFjglVHW

— Jet Airways (@jetairways) April 13, 2015
Scene at Khajuraho airport in MP after Jet airways flight 9W 2423 landing gear suffered technical snag. #avgeek pic.twitter.com/wepAgbUPlW

— Vikas Mishra (@vikasmishraa) April 13, 2015