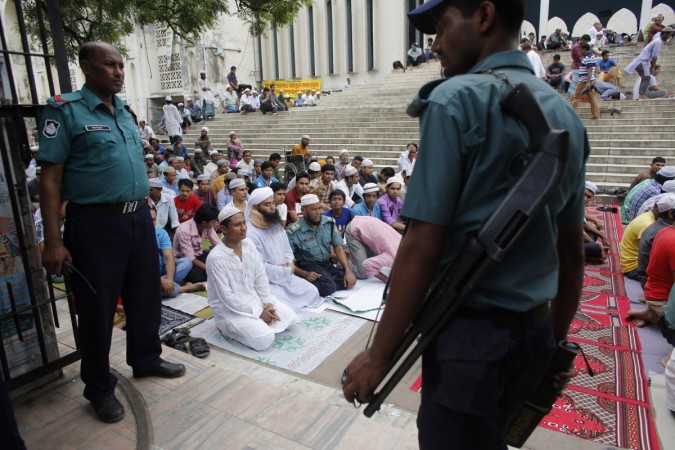 2:40 p.m. IST: At least 20 people have been injured and are admitted in the District Hospital of Kishoreganj. The injured police personnel are admitted in a separate hospital, police sources were quoted as saying by the Hindu.
1:19 p.m. IST: One attacker is believed to have been gunned down and another has been captured alive by security forces, Bangladesh's information minister was quoted as saying by ANI news agency in a tweet.
1:02 p.m. IST: Bangladesh's Prime Minister Sheikh Hasina has condemned the attack, saying that terrorism is against Islam and humanity. She also expressed concern that 400 young Bangladeshi men reported missing from their homes could have been radicalised, Bangladesh Today said in a tweet.
11:08 a.m. IST: At least four people, including one policeman, have died and 12 people have been injured in a blast.
10:07 a.m. IST: At least five people have been injured in a blast, which took place during an Eid congregation in Bangladesh on Thursday.
The blast took place at the Sholakia field in Kishoreganj area, around 100 km from Dhaka, at around 9:45 a.m local time, when a moltov cocktail bomb was reportedly thrown at the crowd. The attackers are believed to be hiding inside a house and an encounter is currently underway.
"One police constable is dead and at least five others were injured," Mahbub, a police officer in the Kishoreganj control room, told the media, NDTV reported.
Local police said the explosion occurred at a school outside a prayer ground. About 300,000-400,000 Muslims, who had gathered at Sholakia to offer Eid prayers, were trapped amid gunshots being exchanged between police and the attackers, the Daily Star reported.
Thursday morning's blast comes less than a week after six armed men entered a cafe in Dhaka and killed 20 people.
Five injured in bomb explosion near entrance of Bangladesh's largest Eid congregation: China Xinhua News

— ANI (@ANI_news) July 7, 2016
#BREAKING | 5 wounded due to a bomb blast at Bangladesh's largest Eid congregation — News18 (@CNNnews18) July 7, 2016
More details are awaited.