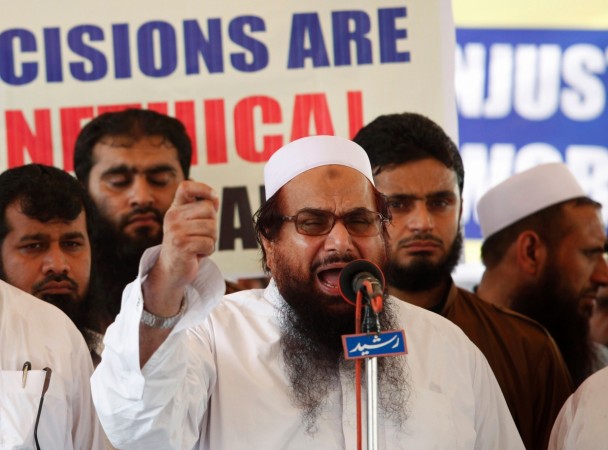 Hafiz Saeed, the man behind the 26/11 terror attacks in Mumbai, was arrested in Pakistan on Wednesday afternoon. The founder of Lashkar-e-Taiba and the chief of Jama'at-ud-Da'wah has been sent to judicial custody. This comes a day after Pakistan opened its airspace to civilian and commercial flights for the first time since the Balakot airstrike in February.
The arrest also comes days ahead of Prime Minister Imran Khan's US visit. Khan is likely to meet US President Donald Trump at the White House on July 22.
Saeed was arrested from Lahore by the Counter-Terrorism Department (CTD) of Pakistan's Punjab Police. He has been sent to judicial custody. The 69-year-old was earlier booked along with 12 accomplices for terror funding. He is facing 23 terror-related cases in Pakistan, India Today reported.
Khan's US visit is being seen as an attempt to repair the ties between the two countries as the Pakistan government is frequently accused of facilitating terrorism. Pakistan was also dangerously close to being blacklisted by the Financial Action Task Force (FATF) earlier this year and was put on the grey list after the organisation directed the country to act against terror outfits. Pakistan has been given October as the deadline to prove its efforts to counter terrorism on its soil.
Saeed is listed as a global terrorist by the United Nations and the United States had earlier announced a $10 million bounty for his arrest.
Here is a timeline of how Hafiz Saeed managed to evade arrest

• November 26, 2008 – Multiple attacks rock Mumbai and kill 166 civilians. It was orchestrated by Lashkar-e-Taiba's chief Hafiz Saeed.
• October 10, 2008 – The United Nations lists Saeed as "being associated with Lashkar-e-Tayyiba (LeT)" under the behest of India. He is placed under house arrest next day.
• June 2009 – Lahore High Court rules Saeed's house arrest as unconstitutional and orders his release
• August 2009 – Interpol issues red corner notice against Saeed. This makes it mandatory for Pakistan to share information regarding crimes and criminals with all intelligence agencies around the world.
• September 2009 - Saeed placed under house arrest after Interpol's RCN.
• October 2009 – All charges dropped against Saeed by Lahore High Court citing lack of evidence for a conviction. The court also added that the Jamaat-ud-Dawa is not a banned organisation.
• April 2012 – The US announces $10 million reward on Saeed and blacklists JuD and Lashkar-e-Taiba.
• June 2014 – The US labels Jamaat-ud-Dawa as a "foreign terrorist organisation. This was done in order to freeze any asset the organization has in the US.
• January 2015 – Pakistan lists JuD and the Haqqani network as banned outfits.
• January 2017 – Saeed placed under house arrest again after US President Donald Trump announces immigration ban against Pakistan.
• September 2017 - Saeed's new terror front Tehreek-e-Azadi-Jammu & Kashmir (TAJK) banned in Pakistan. Saeed was running his operations under TAJK after JuD and LeT were banned.
• October 2017 – Lahore High Court warns that unless there is evidenciary support against Saeed, he will be freed from house arrest.
• November 2017 – Saeed is freed from house arrest even though government warned the court saying that freeing an international terrorist would attract sanctions against Pakistan.
• June 2018 – Saeed announces that he would contest Pakistan's general assembly elections and would seek a seat through Milli Muslim League (MML).
• July 15, 2019 – Pakistan grants pre-arrest bail to Saeed.
• July 17, 2019 - Counter-Terrorism Department (CTD) of Pakistan's Punjab Police arrests Saeed and places him in judicial custody.