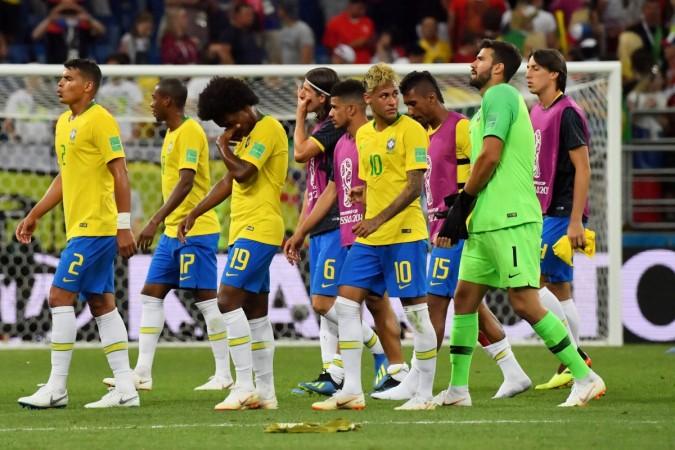 Hello and welcome to the highlights of the Group E encounter of Fifa World Cup 2018 between former champions Brazil and Switzerland from Rostov-on-Don.
Live Updates
2018-06-1801:53 (IST)
Story of the World Cup so far!
Are we in for more surprises? What a start to the tournament in Russia!
2018-06-1801:46 (IST)
Brazil's night in one stat: 20 shots, four on target
Tite had expected a tough match and it was indeed tough for the Brazilians. Their star-studded attackers were neutralised by the organised Swiss defence.
Neymar's threat was thwarted as he got only two shots on target.
Here's a look at how Brazil fared on their big Sunday.
Ball possession: 54%
Attempts: 20
On-target: 4
Off-Target: 9
Blocked: 7
That should very well explain the scoreline.
Here's how Group D table looks like.
2018-06-1801:41 (IST)
Full-time: Switzerland snatch a point.
Roger Federer is happy! Switzerland have come up with a valiant performance against tournament favourites Brazil to snatch a point in the Group E tie.
Brazil were given the early advantage by Barcelona's Philippe Coutinho, who curled in a stunner into the top left corner. However, Switzerland never let their intensity dip.
Switzerland's resilience was rewarded when Zuber, who was unmarked inside the box, leapt high and headed in an equaliser.
Neymar had a poor night in Rostov-on-Don even as Brazil fell apart in the second half. Switzerland started dictating the play and survived a few nervy moments in the end to cause the second upset of the day. Can we call this an upset?
Yup. This is the #WorldCup. No invites, you work for your place unless you're the host. No such thing as an easy game, is there? It's going to be a good month. Well done Switzerland! #BRASUI

— Moses Rudende (@rudende) June 17, 2018
If #ISL stopped #Arg with their masterclass defensive organisation and discipline then #SUI has done one better in stopping #BRA at #FIFAWorldCup2018 #Neymar failed coz of his own doing. #BRASUI 1-1.

— Shaji Prabhakaran (@Shaji4Football) June 17, 2018
2018-06-1801:24 (IST)
90+5 min: Free-kick for Brazil
Neymar doesn't test the Switzerland goalkeeper directly, instead, he puts one into the box. Switzerland put it out for a corner. Willian takes the corner but nothing comes off it.
Free-kick for Brazil outside the box in the final minute. Denis Zakaria commits a foul. Neymar to take it.
2018-06-1801:20 (IST)
89 min: Nervy few moments for Switzerland
Meanwhile, five minutes of time added on.
Brazil are searching for the winner. After Neymar threated with a header off Willian's cross from the right, Firminho's header is saved wonderfully by Switzerland custodian, Sommer.
The latest one was only their fourth shot on target in the night. What an effort from the resolute Swiss defence.
2018-06-1801:12 (IST)
82 min: It's still 1-1
Switzerland are as relentless as they were in the first-half. While Brazil have been wasteful, their opposition are putting pressure on Thiago Silva and Miranda.
2018-06-1801:10 (IST)
80 min: Switzerland replace Seferovic
Seferovic is coming off. Breel Embolo, the 21-year-old striker, replaces the Benfica man.
After a poor first-half, Seferovic was able to contribute in the last 20 minutes.
2018-06-1801:07 (IST)
79 min: Gabriel Jesus replaced by Firminho
Brazil are looking for more fresh legs. Roberto Firminho replaces Gabriel Jesus, who had a decent night.
2018-06-1801:05 (IST)
73 min: Brazil claim penalty
Gabriel Jesus went down inside the box and Brazil claimed a penalty. The referee did not see anything there.
Brazil are showing a bit more urgency, but Neymar has been under-par on his return from injury.
2018-06-1801:00 (IST)
70 min: Fresh legs for both the teams
Switzerland bring in the Borussia Monchengladbach youngster Denis Zakaria. He replaces Behrami, who helped nullify the Neymar threat so far. Standing ovation from the Swiss fans for the outgoing midfielder.
Meanwhile, Paulinho comes off for Brazil. Raphael Augusto replaces him.
2018-06-1800:58 (IST)
67 min: Another poor free-kick from Neymar
Even as Tite looks concerned at the Brazil dugout, Neymar takes another poor free-kick. He has not been at his best today. He was brought down after some shirt pulling outside the left of the box. Schar gets a yellow card for the foul.
Brazil need to take these chances better as Switzerland are looking more and more threatening at the other end.
2018-06-1800:49 (IST)
60 min: Substitution, first change of the match
At the one-hour mark, Brazil replace Casemiro with Fernandinho. Switzerland's response has been brilliant. They are slowly starting to take control here.
2018-06-1800:48 (IST)
57 min: Some action at the other end now.
Coutinho tried a repeat of his first goal from way outside the box after a good attacking move from Brazil. The Barcelona star wasn't able to penetrate a tree of Switzerland legs.
Neymar tries to beat the Swiss goalkeeper from the left. He manages to only find the outside of the net.
2018-06-1800:42 (IST)
50 min: It's 1-1 in Rostov-on-Don
Goal! Steven Zuber gets the equaliser.
Against the run of play, the unmarked midfielder leaps in the box to head in a corner. Well delivered by Shaqiri. All too easy for Zuber.
Brazil wanted to check that one as they claimed some pushing inside the box. The referee not convinced.
What an effort this from Switzerland, they never refused to go away.
2018-06-1800:18 (IST)
Half-time: BRA 1-0 SUI
Coutinho's wonder strike has given Brazil the lead at the interval. However, Switzerland haven't given up. They are consistently pressing forward and had a good period of play towards the end of the break.
Neymar hasn't set the stage on fire but Brazil put pressure early on. High-intensity and composed effort from them.
Their defensive discipline deserves a mention. Centre-backs Thiago Silva and Miranda were solid while both Danilo and Marcelo weren't afraid of going forward. Top-class stuff from Tite's men.
45 min: Two minutes of added time. Thiago Silva's powerful header goes over the cross-bar. The centre-back, who took a nasty hit on his head, made a good run into the box to head the ball from the corner.
2018-06-1800:11 (IST)
38 min: Switzerland get a good opportunity
Good little period of play for Switzerland. Shaqiri, from the right, delivers one to Seferovic, who makes a mess of it. The ball rolls on to Allison, who tries to show off some of his tricks. Seferovic chases the ball but the Brazilian goalkeeper gets rid off it at the right time.
Switzerland haven't given up, they are pressing forward relentlessly.
2018-06-1800:03 (IST)
31 min: Lichsteiner gets booked!
Switzerland full-back Lichsteiner becomes the first man in the match to get booked. A yellow card for him as he brings down Neymar outside the box.
2018-06-1723:59 (IST)
25 min: Brazil defensively solid after scoring the early goal
Brazil have been solid at the back, a hallmark of Tite's young team. They haven't allowed the Swiss frontline to trouble Allison at all.
Meanwhile, here's a jaw-dropping stat for you.
2018-06-1723:51 (IST)
18 min: Coutinho puts Brazil ahead
Minutes after Neymar hits one from outside the box into the wall, Coutinho puts Brazil ahead. It's 1-0 in Rostov-on-Don.
The Barcelona star curls one into the top left corner from just outside the box. Stunning strike this. The Swiss goalkeeper couldn't have foreseen it.
Brazil looking so sharp even the cameramen can't keep up with them. ?? #BRASUI

— Anton Powers (@AntonPowers) June 17, 2018
2018-06-1723:46 (IST)
11 min: Brazil nearly went ahead
Brazil are creating some problems for the Swiss defence from the left. Neymar tries to find a Brazilian shirt and a scrappy clearance means an oncoming Paulinho gets a good opportunity in front of goal. He misses it. Should have put that one away.
2018-06-1723:43 (IST)
10 min: BRA 0-0 SUI
Both teams have made some forays into the attacking third but nothing has come off it so far.
2018-06-1723:39 (IST)
6 min: Brazil make a dangerous move
After an unpunished foul on Neymar from Granit Xhaka, Willian gets down the right flank and sends in a booming cross which flies across the post.
2018-06-1723:35 (IST)
3 min: Switzerland take their first shot
Xherdan Shaqiri makes an early impact. Finds Dzemalli inside the box from the right wing. The experienced midfielder shoots it way off target. A relatively slow start to this game when compared to the previous one between Germany and Mexico.
2018-06-1723:30 (IST)
1 min: The big match begins!
Gabriel Jesus gets Brazil's campaign underway in Russia.
2018-06-1723:24 (IST)
It's almost time for the kick-off
The two teams are out in the middle. The national anthem of Brazil is being played first.
How many of you noticed the new hairstyle of Neymar? Will the man with the blonde 'spaghetti' haircut be the difference between the two sides today?
2018-06-1723:16 (IST)
Can Switzerland end Brazil's 84-year streak?
Brazil have not lost the first match at Fifa World Cup finals since 1934. Can Switzerland, the sixth-ranked team, end that streak?
2018-06-1723:11 (IST)
Brazil or Switzerland?
A 7-1 defeat in the semi-final of World Cup 2014 was one of the biggest lows in Brazilian football history. However, that seems to be in the distant past as under Tite, the Selecao have been phenomenal. They were the first team (barring hosts Russia) to qualify for the World Cup finals.
Under Tite, Brazil have won 17, drawn three and lost only one.
On the other hand, Switzerland, known for their resilient defence, have lost only one of their last 23 matches. Coach Vladimir Petkovic made his intentions clear when he said they "are not here to make a lovely match but to win".
Will the world-class Brazilian frontline get frustrated and commit errors?
2018-06-1722:44 (IST)
Neymar starts for Brazil: Confirmed line-ups here
Neymar is starting for Brazil. The Paris Saint-Germain star recovered in time from a foot injury to play a couple of warm-ups for Tite's men in the lead up to the World Cup.
Here's are the confirmed line-ups.
Switzerland: Sommer; Lichtsteiner, Schaer, Akanji, Rodriguez; Behrami, Xhaka; Shaqiri, Dzemaili, Zuber; Seferovic
Brazil: Alisson; Danilo, Thiago Silva, Miranda, Marcelo; Casemiro, Paulinho; Willian, Coutinho, Neymar; Gabriel Jesus
2018-06-1722:39 (IST)
Huge upset in Moscow, another pre-tournament favourite fail!
Mexico have shocked defending champions Brazil. Young Hirving Lozano scored the only goal of the fast-paced match. The Latin Americans' pace threw Joachim Low's side off guard.
The World Cup so far hasn't been kind to favourites. After Spain, Argentina, and France (despite their win), Germany have come up with an unconvincing performance.
More pressure now on Brazil?
What a game that was, no idea how it stayed 1-0. Even the little one was cheering for Mexico at the end #WorldCup Now for #BRASWI

— Daniel Nardiello (@nards10) June 17, 2018
2018-06-1722:36 (IST)
Coach Tite wary of Switzerland
Can Switzerland pose a challenge? The sixth-ranked team had a brilliant qualification campaign but a big, early test awaits them in Russia.
Tite said the Selecao are wary of Switzerland, who are heading into the tournament after losing only one of their last 22 matches. Known for their defensive discipline, Vladimir Petkovic's men will be hoping to frustrate Neymar & Co.
"They are a team that defends with two lines. They have speed in attack. Out of all the teams we are facing, they are the strongest in depth," Tite said on the eve of their World Cup opener.
"We know they'll give us some difficult moments, games at the highest level demand so much of you and force you to raise your performance."
2018-06-1722:34 (IST)
Can Brazil lay down an early marker?
The Selecao, considered one of the tournament favourites, will be hoping for a strong start to the tournament. After impressing heavily under Tite in the qualification campaign, Brazil have had brilliant run in the World Cup-friendlies.
Wins against Germany and Croatia and the return of their talismanic striker Neymar, who recovered in time after undergoing a foot surgery in March, come as big boost for the South American giants.