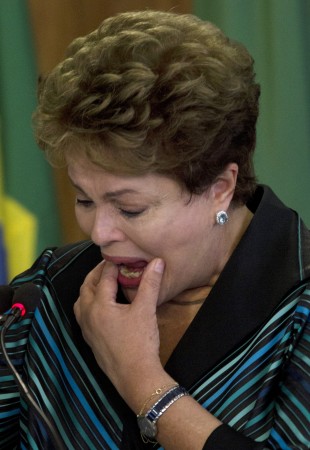 A day after the US torture report revealed shocking human rights abuses on prisoners, Brazil released its report on the murders and torture carried out on its citizens during the two decades of military rule in the country.
President Dilma Rousseff, who presented the National Truth Commission report on Wednesday, broke down in tears as she cited cases of beatings, murders and human rights violations by the military dictatorship between 1964 and 1985.
Rousseff herself was imprisoned and had to face torture such as electric shocks and beatings.
During the period, 434 people were reportedly killed or had "disappeared." The Commission increased the death toll from the earlier 362.
It also named 377 people, including former presidents and military officials, who perpetrated the abuses. It said that 196 of those named are still alive and has demanded criminal prosecution against them.
"Under the military dictatorship, repression and the elimination of political opposition became the policy of the state, conceived and implemented based on decisions by the president of the republic and military ministers," the commission said in its 2000-page report.
Hundreds of people perceived as state enemies, including students, factory workers and others, were tortured and killed during the military rule.
"Brazil deserves the truth. The truth means above everything the opportunity to reconcile ourselves and our history," Rousseff said on Wednesday, The Associated Press reported.
"I was held for three years. The stress was fierce. ... I faced death and loneliness," the Brazilian President said, citing torture such as punches on her face that knocked her teeth out, and hanging upside down tied to a wooden pole for hours in a stress position.
The commission spent three years on analyzing hospital and morgue records, and questioning families of victims and abusers to compile the report.
The Truth Commission also rapped the United States and the UK for providing training to Brazilian officials in torture techniques. Several Brazilian officers were sent to London in the 1970s to train in torture techniques.
"At the end of 1970 we sent a group of army officers to England to learn the English system of interrogation. This consists of putting the prisoner in a cell incommunicado, a method known as the 'refrigerator'," the report said.
Apart from Brazil, other Latin American nations such as Argentina and Chile had also witnessed systematic killings and abuses under military regimes.