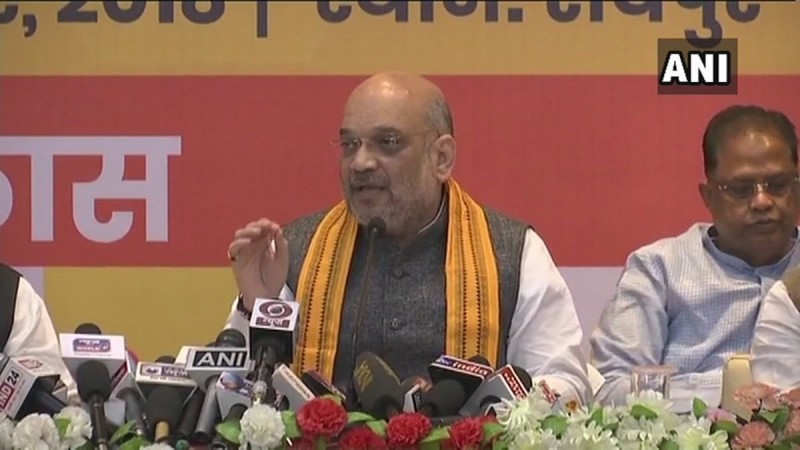 Brand BJP is betting heavily on the pan-India reach of the television medium in its mission to bring PM Narendra Modi back to power in 2019, as advertisement stats reveal.
Embroiled in bruising elections in five states, reckoned the semi-finals ahead of 2019 general election, the ruling Bharatiya Janata Party (BJP) left behind all other advertisers on Indian television in November 10-16 week, media reports showed.
The Bharatiya Janata Party, facing elections in five states, has been splurging on television advertisements, beating by far high spenders like Netflix and Trivago, and, offering a view of the party's grand strategy for the general elections next year.
The BJP's advertisements aired 22,099 times in the November 10-16 week, with Netflix left behind at dismal second at 12,951 times, reports said.
News media reported citing Broadcast Audience Research Council (BARC) data that BJP forged ahead of Vimal Pan Masala in the week ending on November 16, and has left in its wake highly visible advertisers like Amazon and Hindustan Lever.
The BJP was in the second position in the preceding week but surged ahead as the campaign heat of elections in five states rose, according to reports. No other political party, including the main opposition Congress party, features on the top 10 advertisers.
With further phases of elections taking place in various states in subsequent weeks, the BJP must be dominating the country TV ad scene.
During the week, the difference of Chhattisgarh voting was on but key states like Madhya Pradesh, Rajasthan, Telangana and Mizoram were going to vote soon.
Rural penetration
The top-10 advertisers, the BARC report said, were BJP, Netflix, Trivago, Santoor Sandal, Dettol Liquid Soap, Wipe, Colgate Dental Cream, Dettol Toilet Soaps, Amazon Prime Video and Roop Mantra Ayur Face Cream.
The BJP understands the reach and potency of a medium like television and is out to leverage it in an attempt to retain power after the 2019 general elections. No other medium has quite the kind of penetration, especially in rural India.
The Modi-led BJP government spent above Rs 4,300 crore on advertisements and publicity through different media in its first four years in office, reports said.
Trivago continued to be on the third spot with 12,795 insertions, while Santoor Sandal and Turmeric entered the category at fourth position with 11,222 insertions. Dettol Liquid Soap was the fifth with 9,487 insertions, while Wipe slipped to the sixth position with 9,082 insertions.
Colgate Dental Cream climbed to the seventh spot with 8,938 insertions while Dettol Toilet Soaps slipped to the eighth with 8,633 insertions. Amazon Prime Video and Roop Mantra Ayur Face Cream also broke into the category at the ninth and tenth spots respectively with 8,031 and 7,962 insertions.