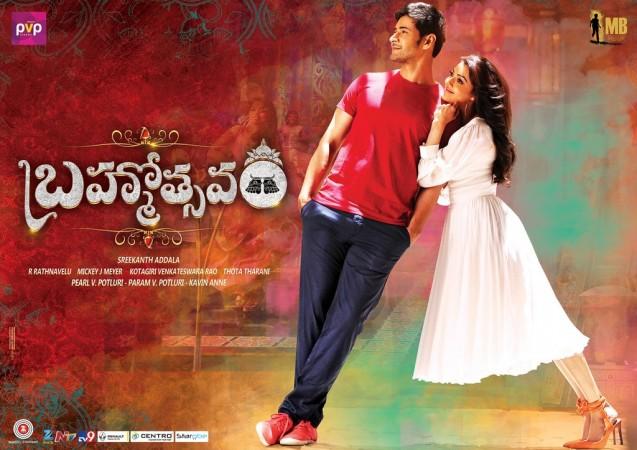 Director Srikanth Addala's "Brahmotsavam" has made poor collections at the worldwide box office in its second week. It has become the biggest disaster in the career of superstar Mahesh Babu.
"Brahmotsavam" is one of the big ticket Telugu movies of 2016 and it has been made with a whopping budget of Rs. 75 crore. Before its release, its promos had created huge hype around the film, which helped its makers to sell its theatrical rights for a record price of Rs. 73.44 crore to various distributors. The film was expected to get big opening and do record business.
But "Brahmotsavam" opened to an average response and the word of mouth affected its collection on the following days. The movie collected Rs. 51.70 crore gross at the worldwide box office in its first week and it earned a share of Rs. 33.11 crore to its distributors in seven days. The movie was expected to recover 50 percent of the investments to its distributors, but it failed to do so.
New releases "Rayudu" and "Rahadari" forced "Brahmotsavam" to vacate a large number of screens across the globe in its second week. The Mahesh Babu-starrer witnessed a steep decline in its numbers. In its second week, the movie is estimated to have collected approximately Rs. 14 crore gross at the worldwide box office, taking its 12-day total to Rs. 63.70 crore.
"Brahmotsavam" is estimated to have earned a share of Rs. 3.96 crore for its distributors in its second week. The movie has fetched a share of Rs. 37.07 crore in 14 days. The movie recovered over 50 percent of the distributors' investments and it is yet to recover Rs. 36.37 crore for them.
New release "A...Aa" has vacated "Brahmotsavam" from most of the cinema halls in the latter's third week. This makes sure that the Mahesh Babu-starrer end up incurring huge losses to its distributors. Andhra Box Office tweeted, "#Brahmotsavam has been removed from Majority screens this week. Biggest Disaster In Tollywood's History for Buyers. Many will be out of Biz."