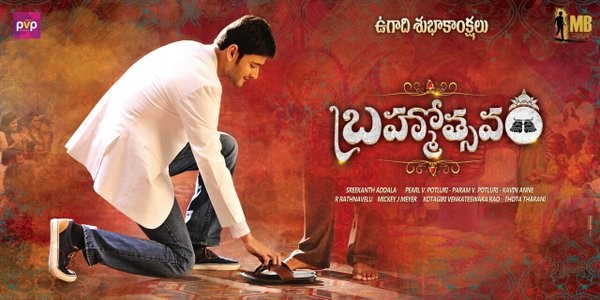 "Brahmotsavam" has turned out to be the biggest disaster of 2016 at the Andhra Pradesh and Telangana (AP/T) box office. Its first weekend (3 days) collection is not even equal to the first day business of another big disaster "Sardaar Gabbar Singh" (SGS).
"Brahmotsavam" is one of the much-talked-about and highly-anticipated Telugu movies of 2016. Before its release, its promos had garnered lot of attention for the film and the makers had arranged massive publicity for it. The movie, which had good advance booking, was released in over 1,000 cinema halls across AP/T on May 20. The film was expected to start with a bang at the box office on Friday.
The Mahesh Babu, Samantha, Kajal and Pranitha starrer received decent response in the early morning shows. Its occupancy was low compared to that of Prince's previous releases. Its business was affected by cyclone. "Brahmotsavam" garnered mixed talk from the audience and the word-of-mouth hindered its growth in the later shows.
The Srikanth Addala-directed family drama witnessed 75 percent drop on Saturday and it could not show growth on Sunday too. Its business was affected by bad weather and negative word-of-mouth. "Brahmotsavam" is estimated to have collected Rs. 24.18 crore gross at the AP/T box office in its first weekend. The film has earned approximately Rs. 18.65 crore to its distributors in three days.
Considering its pre-release hype, the trade experts in T-Town had predicted "Brahmotsavam" would shatter all the records of "Sardaar Gabbar Singh," which did good collection in the first weekend, but turned out to be disaster on the following days. Its three-day business is lesser than the first day collection of the Pawan Kalyan starrer, which collected Rs. 26.90 crore gross (Rs. 20.92 crore share) on its opening day in the two states.
Here is the area-wise share of "Brahmotsavam" (3 days) and Sadaar Gabbar Singh (Opening day). These are estimated figures and they may not match with the figures released by the makers.
Brahmotsavam 1st weekend share
SGS
Area
Day 1
Day 2
Day 3
Total Share
Day 1
Nizam
Rs. 3.51 crore
Rs. 1.11 crore
Rs. 1 crore
Rs. 5.62 crore
Rs. 5.03 crore
Ceeded
Rs. 1.48 crore
Rs. 0.44 crore
Rs. 0.42 crore
Rs. 2.35 crore
Rs. 4.10 crore
Vizag
Rs. 0.93 crore
Rs. 0.47 crore
Rs. 0.45 crore
Rs. 1.85 crore
Rs. 2.01 crore
G. East
Rs. 1.60 crore
Rs. 0.28 crore
Rs. 0.24 crore
Rs. 2.12 crore
Rs. 2.26 crore
G. West
Rs. 1.92 crore
Rs. 0.19 crore
Rs. 0.17 crore
Rs. 2.28 crore
Rs. 2.70 crore
Krishna
Rs. 0.74 crore
Rs. 0.28 crore
Rs. 0.28 crore
Rs. 1.30 crore
Rs. 1.51 crore
Guntur
Rs. 1.89 crore
Rs. 0.28 crore
Rs. 0.28 crore
Rs. 2.45 crore
Rs. 2.64 crore
Nellore
Rs. 0.49 crore
Rs. 0.10 crore
Rs. 0.10 crore
Rs. 0.69 crore
Rs. 0.85 crore
AP/T total
Rs. 12.56 crore
Rs. 3.15 crore
Rs. 2.94 crore
Rs. 18.65 crore
Rs. 20.92 crore