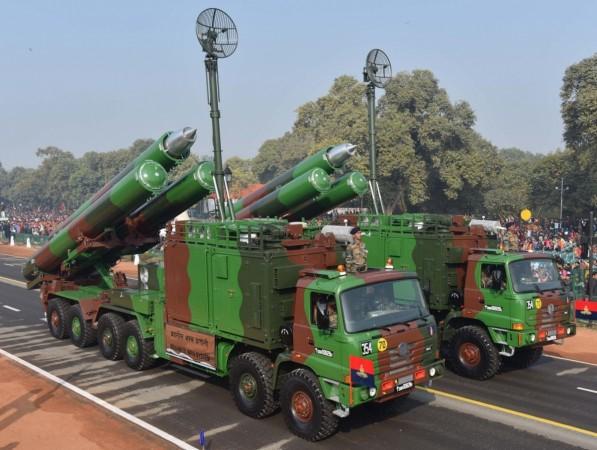 India successfully test-fired the supersonic cruise missile BrahMos from Pokhran in Rajasthan, Thursday, March 22.
This is the first time that the missile has been tested with an Indian-made seeker, a journalist tweeted.
#Breaking Supersonic cruise missile BrahMos, which has become the preferred conventional precision-strike weapon for the armed forces, successfully tested for the first time with Indian-made seeker at Pokhran at 8.42 am. File pix #BrahMos pic.twitter.com/TMvsrZ3WM5

— Rajat Pandit (@rajatpTOI) March 22, 2018
The supersonic cruise missile was last test-fired in November 2017 from the Indian Air Force's fighter, Sukhoi-30MKI. The last year's test is said to have been a major boost in terms of the IAF's defence capabilities and was termed as a "major achievement."
"The successful maiden test firing of BrahMos Air Launched Cruise Missile (ALCM) from the Su-30MKI will significantly bolster the IAF's air combat operations capability from stand-off ranges," the Economic Times quoted the defence ministry as saying.
India is now also working on integrating the BrahMos missile on about 40 Sukhoi aircraft and the work is likely to be completed by 2020.
The BrahMos was also showcased at the Dubai Air Show last year and had garnered quite a lot of interest from several countries. Praveen Pathak, general manager, BrahMos, had at the time told Business Line that representatives from Brazil, Indonesia and 12 other nations visited the stall and enquired about the missile.
However, he had refused to name the countries.
Speaking of the tests he said: "By the year-end we will finish all the tests (for the air version of the Brahmos missile). With this we will complete the air, land and sea version of the missile. This will be one system which will there for all."
Quick facts about the BrahMos
The BrahMos is a medium range ramjet supersonic cruise missile.
It can be launched from the land, air and the sea.
It is a joint venture between India's Defence Research and Development Organisation (DRDO) and Russian Federation's NPO Mashinostroeyenia.
The word BrahMos is a portmanteau of rivers Brahmaputra of India and the Moskva of Russia.
It boasts of a speed of Mach 2.8 to 3.0, making it the fastest anti-ship cruise missile in the world.
The speed is now being upgraded to Mach 5.0
It was inducted into service in 2006 and is used by the Indian Army, Air Force and the Navy.
It weighs between 2,500 kg and 3,000 kg, has a length of about 8.4 meters with a warhead of about 200-300 kg.
It was also revealed that the Russian Defense Ministry was interested in purchasing the air-launched BrahMos.