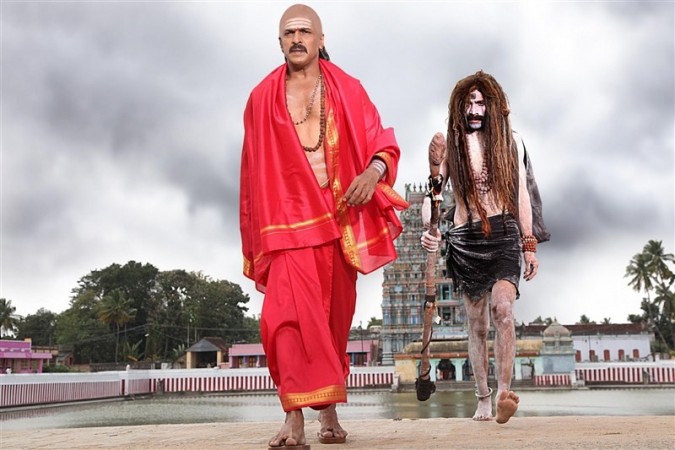 Director Srinivasa Raju's Telugu movie "Brahmana," featuring Upendra, Saloni Aswani and Ragini Dwivedi in the lead roles, has received mixed reviews and average ratings from the film critics.
"Brahmana" is the dubbed version of the 2015 Indian Kannada action thriller film Shivam, which has been written by the "Dandupalyam" fame, Srinivasa Raju. The movie has been produced by CR Manohar under the banner Tanvi Films. Mani Sharma has composed music for its songs and background score, while Venkat Prasad handled cinematography for the film.
The movie revolves around the story of Basavanna (Upendra), who is a boy from a historical Brahmin family, which is the caretaker to the Lord Shiva Temple. He is no longer interested to follow his family trade, but he is forced to become a priest following his father's sudden death. After taking charge of the temple, he learns about the mistakes and manipulations in temple maintenance. What happens next forms the crux of the story.
The critics say the movie has an interesting story, but the director has failed in creating a good script for "Brahmana." The first half of the film is quite entertaining and some emotional scenes and Upendra's witty dialogues keep the viewers engaged here. But the second half is a big letdown, as its story takes a different direction.
Upendra has delivered a superb performance, which is the highlight of "Brahmana." Saloni Aswani and Ragini Dwivedi have less screen space and they impress the viewers with their glamour. The movie has average production values. Music and camera work are attractions in it.
We bring you some critics verdict and ratings for the film. Continue to see the same in "Brahmana" movie review roundup:
The movie has an interesting plot, but it was let down by a poor narration. The second half also goes in another lane and the side tracks are disturbing even more. Music, Editing and Cinematography are just a let down yet again. Upendra has definitely let down a good movie by a weak second half. He should have focused a little more.
As in every film of Upendra, even Brahmana has an interesting premise and note worthy performance by the Kannada star. But it is the pathetic second half which sidetracks the film completely and disturbs the viewing for the audience. All those who love Upendra films can give this film a shot just for that interesting first half and can walk out once that is done.
The movie is shot in a decent manner with the first half being very entertaining. Basavanna's character has been sketched to perfection. His role in saving his family and the temple has been portrayed beautifully. Director managed to engage the audience in the first half. The second half of the film has been side tracked as it deals with mafia and terrorism.