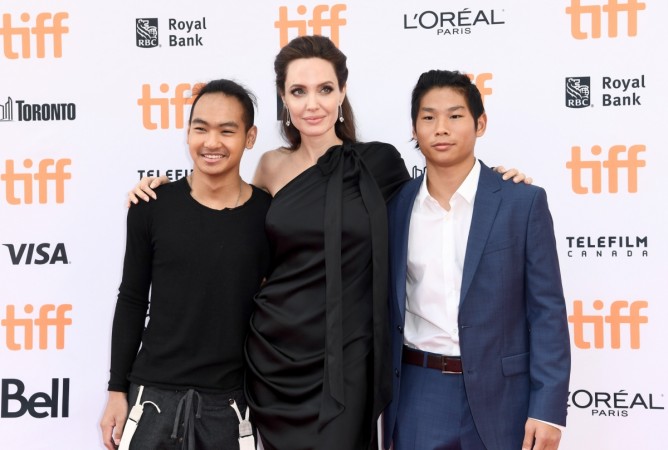 Angelina Jolie's health is a growing concern among fans. The actress has lost a shocking amount of weight, which is evident in her changed physique. The Maleficent star also confessed last year to suffering from a couple of health problems but assured fans she had recovered.
However, recently a few rumours are doing the rounds that the actress' health is not good, with a new report claiming she is headed for a "physical meltdown." While Gossip Cop debunks the story, here's what the claims are.
Also Read: Angelina Jolie was on a '48-hour' drinking spree and got 'wasted' in New York?
Life & Style Magazine writes that given the strain of divorce and custody battle with Brad Pitt and her career, Jolie has too much going on for her. And it is this overload that is leading to the actress having more health problems and heading towards a physical breakdown.
"Everyone's afraid that Angie's headed toward a complete physical meltdown," a source claimed to the magazine. Friends have also urged the mother of six to "slow down," but Jolie is insisting on "piling on the work," the magazine reports.
The article also said there are "already a few red flags that Angie's overloading herself."
According to the insider claims: "She hasn't been eating enough or taking care of herself. She's been taking on too much at once, and everyone's worried she's headed for a serious breakdown."
These claims have been dismissed by Gossip Cop's sources, who say Jolie is doing well and is not headed to any sort of breakdown. "Like all working moms," she's doing her best, and knows that "taking care of herself" is key to taking care of her family.
"While every day may not be perfect, we're assured that the bleak picture painted by the publication doesn't actually match reality," the outlet writes.
Jolie has admitted to have suffered from hypertension and Bell's Palsy in July last year but assured fans she has recovered since. However, her drastic appearance change has her fans frequently concerned.