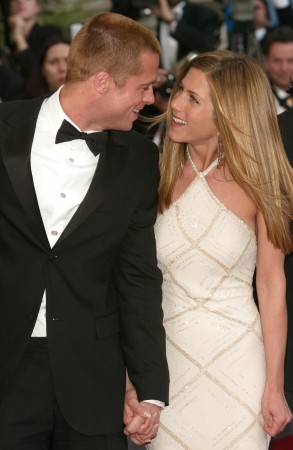 Brad Pitt shocked the world after he attended his former wife, Jennifer Aniston's 50th birthday party recently. The 55-year-old actor made a low-key arrival at the event, which took place at the Sunset Tower Hotel in Los Angeles.
Many started assuming that the former couple have plans to reunite. However, according to Entertainment Tonight, Brad attended the party to support the Friends star as they have been in good terms ever since their divorce in 2005.
Brad and Jennifer were rumoured to have split when he fell for Angelina Jolie on the set of the film Mr And Mrs Smith. The couple never had children of their own.
A source said: "He came to support her, spoke to other friends of his that were there and headed out."
"Jen and Brad have remained friends and have spoken with each other quite a few times since they both became single," another insider told the website. "They are friends and have supported each other through some tough times. They've come so far since their marriage and plan to stay friends for life. There are truly no hard feelings between them... They both realize that anytime they cross paths people talk about a reunion."
"He came on his won and quietly entered the party. They had heavy security, kept a ban on social media, and hoped for the best," the source added.
Meanwhile, other celebrities who were present at Jennifer's birthday party included Ellen DeGeneres, Katy Perry, Orlando Bloom, Sandra Bullock, Lisa Kudrow, George and Amal Clooney, Reese Witherspoon, Gwyneth Paltrow, Kate Hudson, John Mayer, Robert Downey Jr., Jason Bateman, David Arquette, and more.