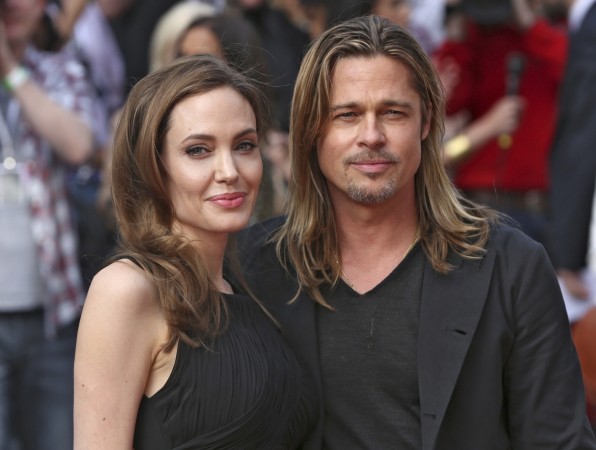 Twitter went berserk after the news of Brad Pitt and Angelina Jolie, who is famously known as Brangelina, ending their relationship came out. Twitterati responded to Brangelina's divorce with actress Jennifer Aniston's memes.
Jolie's lawyer Robert Offer confirmed that she has filed for divorce from Pitt on Monday. Offer said that the decision was taken "for the health of the family." "She will not be commenting, and asks that the family be given its privacy at this time," Offer said in a statement.
Pitt, on the other hand, said that he is saddened and now he only focuses on the well-being of his kids. "I am very saddened by this, but what matters most now is the well-being of our kids," he told People in a statement. "I kindly ask the press to give them the space they deserve during this challenging time."
Pitt and Jolie, who have six children together, have been together since 2004 but got married only in August 2014. Pitt was previously married to Friends star Aniston and ended their relationship in 2005. And while Aniston has clearly moved on from the breakup, looks like her fans have never forgotten about it.
Team Aniston flooded the Twitter with her memes after Brangelina divorce news broke out. While some called it as "Karma," several other posted saying that Aniston doesn't care, as she has moved on.
However, several others were in shock and disappointed with the news.
Here is Twitter reacted:
September 20th is quickly becoming Jennifer Anniston Meme Day #brangelina pic.twitter.com/9ScaZxdsiX

— Katie Brennan (@KatieLBrennan) September 20, 2016
Jen's reaction to the #Brangelina divorce? pic.twitter.com/50HHJaidcf

— Sunday Times Style (@TheSTStyle) September 20, 2016
Jennifer Aniston right now... #Brangelina pic.twitter.com/MgcQrqo59r

— Gemma Clapp (@gemclapp) September 20, 2016
Give me a K
Give me an A
Give me an R
Give me an M
Give me an A

What does it spell?!#BRANGELINA pic.twitter.com/Xt9f5exnt0

— Claudia Lemire (@claudlemire) September 20, 2016
When the man who cheated on you years ago gets divorced from his wife: #Brangelina pic.twitter.com/uPVJABReM6

— Erin ⚯͛ (@Mugglebws) September 20, 2016
I feel like a horrible person, but the #Brangelina news breaking this morning feels like I'm eating cake for breakfast, it's SO JUICY.

— Carlin Adelson (@CarlinAdelson) September 20, 2016
*Opens twitter*
Seen #Brangelina ? tweets.
Me: thats it, time for bed. Enough internet for today. pic.twitter.com/nn6DRZTLdp

— Lazy Cat (@DenNehaS) September 20, 2016
RIP #brangelina RIP skittles RIP all that is gd in the world

— Michaela Dietz (@whammybah) September 20, 2016
12 years w/ someone is a long time I commend #brangelina love & strength, what ever happens I hope their kids get nothing but love & support

— LizzyG (@elizmarier) September 20, 2016
#brangelina is over so I guess love is a lie?

— The Real Troy Bolton (@GagnonStyle95) September 20, 2016
#Brangelina are getting divorced. Well, eventually something unhappy had to happen in 2016.

— Hey Boy (@HeyanBoy) September 20, 2016
rip, love ?? #brangelina pic.twitter.com/RTaXU8YWG2

— Benita (@fardejahmaisa) September 20, 2016
if they can't make it then love isn't real :/ #Brangelina

— nick (@NEscanelle17) September 20, 2016
Further proof that if you cheat with someone, you'll be cheated on by someone. Take that and spread it #brangelina pic.twitter.com/mF9Gnhoh6O

— Bradley (@The_BradLong) September 20, 2016
omggg decided to cook & clean my room tonight & almost missed #Brangelina breaking up. i'm so here for thisss! pic.twitter.com/F5C2Gcb1D7

— Bea Ez (@haibea) September 20, 2016