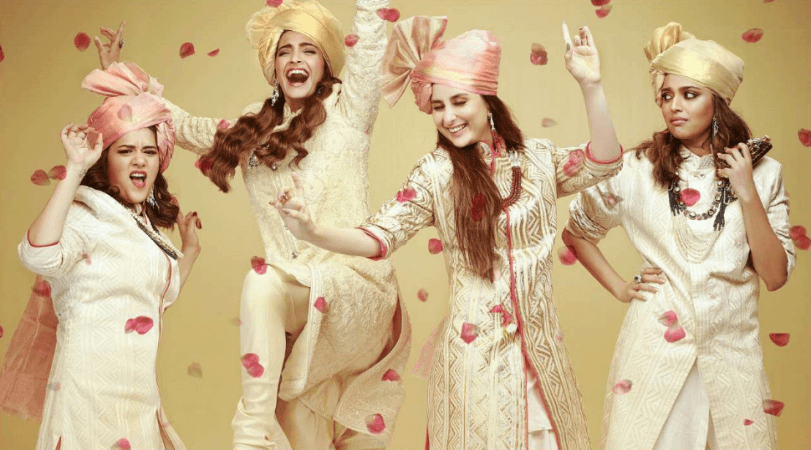 Veere Di Wedding is all set for release this Friday, but a section of social media users have started a campaign to boycott the movie.
Veere Di Wedding features Sonam Kapoor, Swara Bhaskar, Kareena Kapoor Khan and Shikha Talsania. The boycott has been called in protest against Sonam, Kareena and Swara's "selective" outrage against some horrifying incidents of rape.
Many slammed the three actresses for their "hypocrisy" and accused them of deliberately hurting and maligning the Hindu community. Hashtag #BoycottVeereDiWedding has started to gain momentum again on Twitter as the film is slated for release on June 1.
"Dear Hindus, if you have any self respect or dignity left, PLEASE do not watch any movie that stars @ReallySwara, Kareena Kapoor, @humasqureshi Kalki Koechlin, Sonam Kapoor and all other placard wala B grade actresses. Hit them where it hurts [sic]," columnist Shefali Vaidya has this as her pinned tweet.
She is apparently one of the pioneers of the campaign and has been getting a lot of support for it as well. There are scores of tweets supporting #BoyCottVeereDiWedding campaign, and urging people not to watch the film.
Sometimes I feel Pakistan is better than INDIA. See these bimbos, They defamed INDIA without any facts and now the same INDIANS will climb on each other to watch their film. SHAME on ppl who will watch. My Family #BoycottVeereDiWedding, said @DrGPradhan.

"How many of you going to watch Veere Di Wedding which is releasing on 1st June?
Remember still they never apologize for their baised placards#boycottVeereDiWedding," said @Garimak64917560.
Let us all make sure to educate at least people in our contact to #BoycottVeereDiWedding movie in National Interest. I am going to broadcast this msg to 1000 people in my contact list. Spread the msg ahead. These #bollytards needs a big lesson," said @PrasadKarwa.
#BoycottVeereDiWedding I agree with you. We must protest non violently for those people who has been doing against Hindus and Indian cultures," said @Rajchakrabory17.
Dear Hindu Nationalist, #BoycottVeereDiWedding. Remember those placard holding "Reduced to Vagina group of bollytards (Swara, Kareena and Sonam Kapoor insulted ALL Hindus and 'Hindusthan' and none of them apologised. They communalised a crime and portrayed all hindus as rapists," said @shitijsrivastav.
It all started after Swara, Sonam and Kareena along with some Bollywood celebrities staged a placard protest against the Kathua rape case. However, most of the B-Town stars remained mum on other incidents of rape that involved victims from different community and Muslims as accused.
Nonetheless, Swara had later spoken against one such incident of rape but that apparently missed the eyes of many.
Also, none of the mentioned stars had said a word against Saroj Khan's statement of casting couch, wherein she had defended the practice.
This also angered many, who are now running the campaign against the film. Meanwhile, Veere Di Wedding has been banned in Pakistan for its "vulgar dialogues and obscene scenes". The Pakistani censor board found the film inappropriate for the audience.