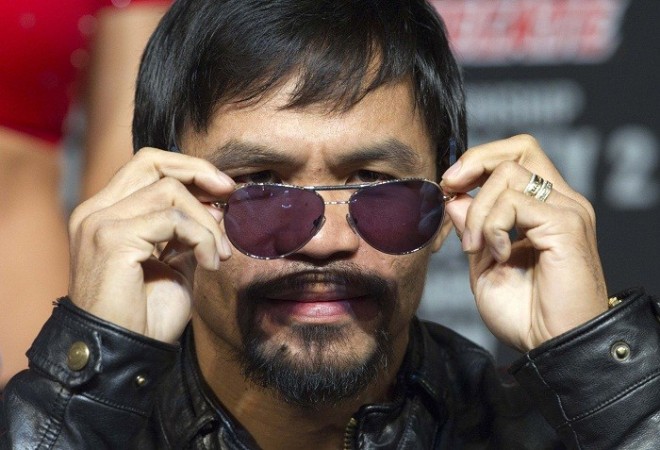 Positive updates one after another just makes one believe that the fight of the century between Floyd Mayweather and Manny Pacquiao is on the verge of becoming official, but there has been no confirmation yet that the mega fight is going to take place as scheduled on 2 May at MGM Grand in Las Vegas.
To add to the list of updates and boost hopes of boxing fans, the recent one comes from MGM Resorts International Chairman and CEO Jim Murren as he confirmed that a reservation has been made for the MGM Grand Garden Arena for 2 May.
"I'm only just reacting to what's in the paper," Murren stated via masslive.com. "We are going to have a fight. We hope it's a big, big fight. If it is the fight we hope it is, then it is the biggest fight."
Though, one needs to understand that the CEO did not make it clear that the arena was reserved for the fight of the century .
Prior to this there have been numerous instances, which suggested that the fight is well on its course and the declaration would be made official as well, but to no avail.
Boxing fans around the world have been left frustrated as they have been waiting for the bout to take place since 2010, when the first fight between the two was expected to take place, but even the negotiations broke down then.
But, the expectations among fans around the world has increased this time with both the American and the Filipino eager to fight one another on 2 May. Both of them have let their interest known to the public as well.
There were some who felt that it was the Mayweather's camp that was not eager to fight the Filipino, but when the American posted a video on Instagram (hotel suite meeting with Pacquiao), where he has expressed his desire to fight Pacquiao, the boxing fraternity failed to understand what is keeping this negotiations dragging on for so long.
But, many feel that it is their respective contracts with HBO (Pacquiao) and Showtime (Mayweather), which seems to be creating a problem in the deal.
Both the networks might have failed to come to a common agreement over terms for the delayed broadcast of the joint pay-per-view.