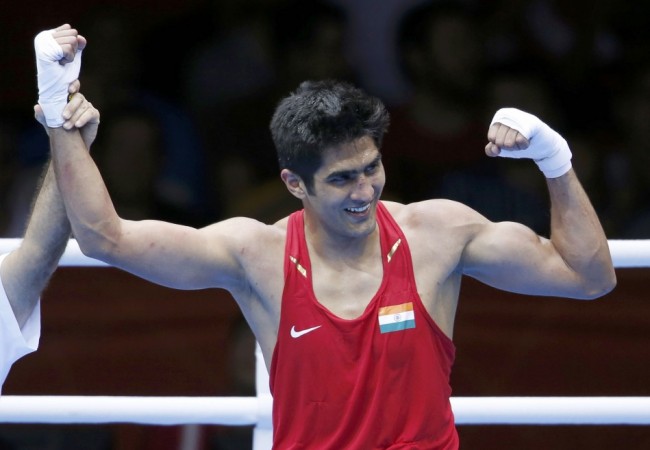 While professional boxing is popular in many parts of the globe, it is not so popular in India. Though there have been few amateur Indian boxers who took the giant step to professional boxing, they never achieved major success, which might be the number one reason for the sport still finding its feet in India.
However, all is not lost as the scenes may change in India with the advent of Vijender Singh, who gave up his amateur level boxing to take on the might of pro-boxers in the circuit. Vijender started his professional career with a huge win against Sony Whiting on 10 October in Manchester.
After an impressive debut, Vijender is set to face Dean Gillen from the UK on 30 October at Harrow Leisure Centre in London, which could pose a major challenge.
The Indian boxer started his preparation for his second bout 24 hours after defeating Whiting in his first bout under the watchful eyes of trainer Lee Beard, under whom Vijender is learning the tricks of the trade required in pro boxing.
Vijender, who won a number of laurels for India in the amateur level, believes that India can be a huge market for pro-boxing if an Indian performs in this level. Boxing fans in India hope Vijender achieves the level of pro-boxing success, which can make the nation a huge market and eventually a force in pro-boxing. The latter might be too ambitious, but there is no harm in dreaming!
"Pro-boxing is popular all over the world. India can be the biggest market for pro-boxing if we have an Indian who is doing well. I am sure investors in India and abroad will be looking at domestic pro-boxing," Vijender told The Economic Times in an interview.
Pro-boxing has been gradually attracting interest with the fight of the century -- Floy Mayweather vs Manny Pacquiao in May -- telecasted in India and watched with utmost interest as well. Even Vijender's debut bout was broadcasted in India, which suggests that there is certain demand for such sport as well.
These are all encouraging signs for India, where cricket rules the roost. However, it may take time for sports lovers in India to get in tune with boxing at the pro level.