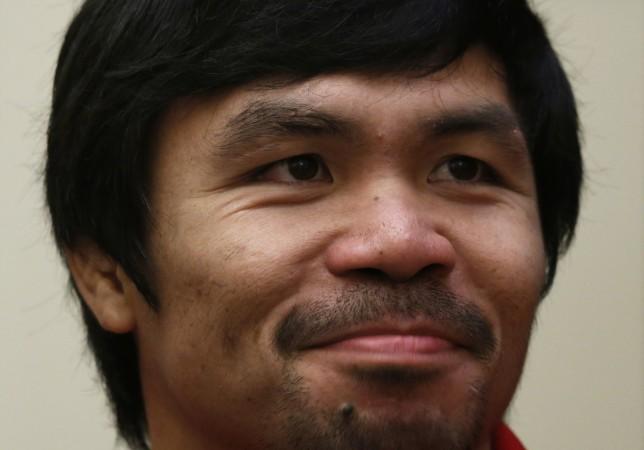 Noted Hall of Fame trainer Nacho Beristain thinks Floyd Mayweather will defeat Manny Pacquiao on 2 May at MGM Grand in Las Vegas, but the reputed trainer's heart is with Pacquiao.
No doubt, the fight between the two is expected to be a very close one, which could go either way. People involved in the sport of boxing have been siding with both the boxers, but one has to understand that the boxer who comes up better on the day shall win the bout.
If Pacquiao manages to defeat Mayweather, it would be registered as the American's first loss in his professional career, as he has not been defeated in his career so far. But, it is not going to be an easy task for the Filipino as well, though not impossible.
Pacquiao's record may look inferior to Mayweather's, but the Filipino has won 57 of his 64 bouts with 38 knock outs.
Both the boxers have started their rigorous training process, which includes fighting with their respective sparring partners to get into perfect shape for the mega bout. Reports suggest that the American has been thrashing his sparring partners.
But Beristain concedes that the Filipino's fighting style is much attractive compared to the American. "Manny is a spectacular fighter who people pay to watch with delight. Floyd is truly excellent, but his style is defensive which isn't attractive for many people." Boxingscene.com quoted the Hall of Fame Trainer.
It is with Mayweather's defensive capabilities that opponents have failed to outdo him. Can Pacquiao fail Mayweather?
Boxing experts have been talking about the Filipino's quick feet and aggression against Mayweather along with his strong defense.
Pacquiao also bags a huge punch, which if struck with force could floor his opponents. It is at this juncture, where Mayweather's defense comes in handy.
One would get to see as to which style would prevail on 2 May. The winner of the bout could well be regarded as the greatest boxer in their category as well.
The trainer offered some advice to the Filipino and suggested him to use his speed.
"Manny's strategy must be pure, concentrated pressure with speed and also with intelligence. Manny must use speed and feline movement. Manny must fight like a wildcat."