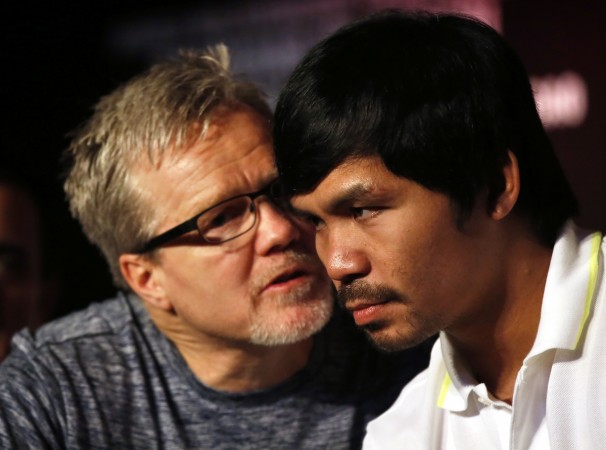 Manny Pacquiao's trainer Freddie Roach has talked a lot about the clash between Pacquiao and Floyd Mayweather, which has been termed as the 'fight of the century'.
The trainer also seems to have made some plans for the fight on 2 May at MGM Grand in Las Vegas. Roach is one of the most celebrated trainers in the sport of boxing and believes that the Filipino is going to defeat the American.
But defeating Mayweather is not going to be easy for they need to come up with a perfect plan. Pacquiao has started his training at Wild Card Gym and Roach has made it clear that the Gym would remain shut during training.
They do not want the outer world to know about their precise plan to tackle Mayweather.
The Filipino has already discussed the strategy that would be put up in place as well.
"Today, first day, we focused on what we are going to do in the last six weeks of training. We focused on strategy and style...I can't really say what we are going to focus on, what we'll be doing. There's a very precise style," said Pacquiao in an interview with ANC.
Irrespective of the style that the Filipino is going to adopt for the bout, it is not going to be an easy affair for the Filipino, as the American will also come well prepared for the bout, as he has also started his training.
Considering the record of the American, where he has not lost a single bout in his professional career, the fight is going to be a huge one and the winner could well be regarded as the greatest boxer in their category as well.
Comparing the record between the two suggests that the American has won all his 47 bouts, which includes 26 knock outs and the Filipino has won 38 of his bouts via knockouts in a total of 57 wins from 64 bouts.
Pacquaio states that Roach is happy with the suggestion of strategy that has been put forward.
"We are both talking, discussing different strategies and movements and putting them together. So far, Freddie is comfortable with what we are doing and he is happy with my suggestion on strategy. It's going to be perfect for Mayweather's style," the Filipino said,